PVTIME – On 20 March, LONGi's high-efficiency monocrystalline solar cell project in Shaanxi Province, China, reached full production with an annual production capacity of 29GW.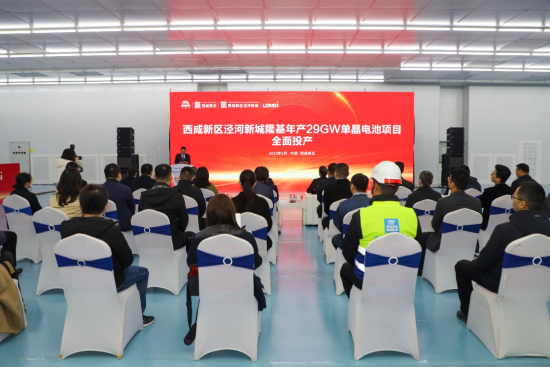 The first phase of this cell project was put into production in September 2022, and the second and third phases of the project have all reached mass production ahead of schedule to supply LONGi's proprietary HPBC high-efficiency solar cells, which are widely welcomed in the residential solar market, especially for the rooftop scenario.
The standard version of LONGi's HPBC cells has achieved a conversion efficiency of 25% in mass production. And its PRO version achieves an efficiency of over 25.3% by adopting hydrogen passivation technology, which dramatically increases the light absorption and photoelectric conversion capacity of the cells by improving the internal structure. It shows that LONGi's Hi-MO 6 modules equipped with HPBC technology can improve power generation performance by 6-10% compared to conventional modules under the same location and low light irradiation conditions, resulting in a significant increase in power generation efficiency.
In addition, LONGi's cumulative investment in PV product research and development from 2012 to the first half of 2022 has exceeded 16 billion yuan, ranking first in the PV industry. And LONGi has achieved a total of 1,808 patents by the end of 30 June 2022, maintaining its leading position in the industry with many of its core technologies and products.