PVTIME - Trina Solar, a leading provider of PV products and solutions, recently announced that its two production projects for Vertex n-type 2382mm solar modules with a production capacity of 10GW and i-TOPCon n-type cells with a production capacity of 10GW have become operational, dramatically increasing Trina Solar's n-type capacity.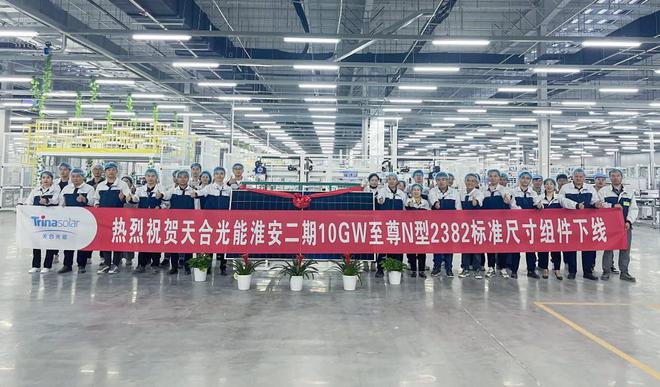 This is the second phase of Trina Solar's manufacturing facility in Huai'an City, Jiangsu Province, China. The first phase was commissioned in April 2023 with a production capacity of 10GW of Vertex 210+ n-type modules and 5GW of solar cells. A further 10GW high-efficiency solar cell production project is planned. It is estimated to generate an annual value of 52 billion yuan once the entire project is completed.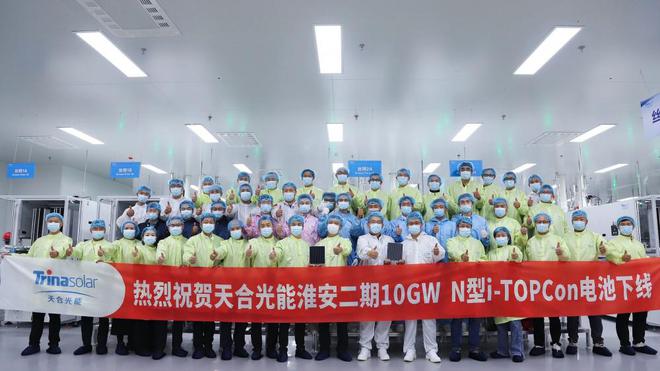 In addition, Trina Solar is very pleased to launch its Vertex n-type modules with this golden size of 2382mm to meet the needs of the industry after Trina Solar and other eight of the world's top solar module manufacturers reached an agreement on the standardised size of rectangular modules with a size of 2382mm*1134mm in July 2023. The new products have been well-received in the market, with a 13% increase in installed capacity in a single roll of tracker compared to the medium size of last generation modules, and have been ordered for the construction of 453.18MW solar power plant in Sichuan Province, commercial rooftop project in Xuzhou City and many other projects.
This manufacturing base is a core part of Trina Solar's plan for an integrated strategy for its n-type PV products, with a secured supply chain covering the upstream and downstream of the entire PV industry. And it is expected to reach production capacity of 50GW of n-type silicon wafers, 95GW of solar cells including 40GW of n-type, all supported by i-TOPCon cutting edge technology.