PVTIME - On 22-23 May 2023, the CPC 8th Century Photovoltaic Conference of 2023 and PVBL 11th Global PV Global Photovoltaic Brand Rankings Announcement Ceremony were jointly held by Century New Energy Network, PVTIME and Photovoltaic Brand Lab (PVBL) in Shanghai City, China.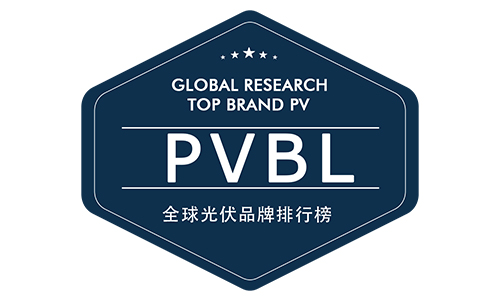 The conference brought together solar energy leaders, entrepreneurs and heads of investment institutions. Based on the Duel Carbon targets, PV-related topics such as industrial development trend, technological innovation and integration of solar power storage were discussed, with the aim of promoting the coordinated progress of upstream and downstream industrial chains, and promoting the brand building and technological innovation of the photovoltaic industry.
On the first day of the conference, PVBL's annual ranking of the most valuable photovoltaic brands was announced.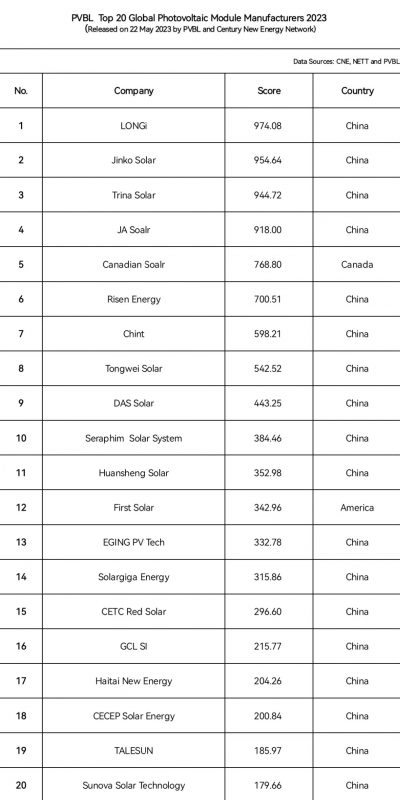 The revenue of the top 20 module manufacturers exceeded 520 billion yuan and the shipments exceeded 290 GW in 2022. The module shipments of the top 20 manufacturers increased by more than 50% year-on-year, of which the shipments of the top four accounted for 59.95% of the total shipments of the top 20.
The major players maintained their leading positions throughout the list. The top four were LONGi, Jinko, Trina and JA Solar, the same order as previous year. Canadian Solar, Risen Solar, Chint, Tongwei, DAS Solar and Seraphim were among the top five to ten.
A total of 18 Chinese companies were selected in the top 20 list, with a total output of more than 270GW in 2022, gradually taking over the global PV module market with their unique advantages. LONGi, the king of the PV industry, supplied 46.76GW of modules in 2022, up 21% year-on-year. Most of the manufacturers in the first tier achieved module shipments of more than 40GW each, which was significantly higher than that of the following manufacturers in the ranking. Two overseas companies made the list, with total revenue of approximately 68.508 billion yuan. Among them, First Solar dropped two positions from the previous year's list, with a negative net profit in 2022.