PVTIME – Wuxi UtmoLight Technology Co., Ltd. (UtmoLight), a China-based leading perovskite photoelectric industrialization technology development company, disclosed that its 756cm² large-size perovskite solar module reached a conversion efficiency of 18.2%, which was confirmed via the tests carried out at the Japan Electrical Safety & Environment Technology Laboratories (JET) in September 2022.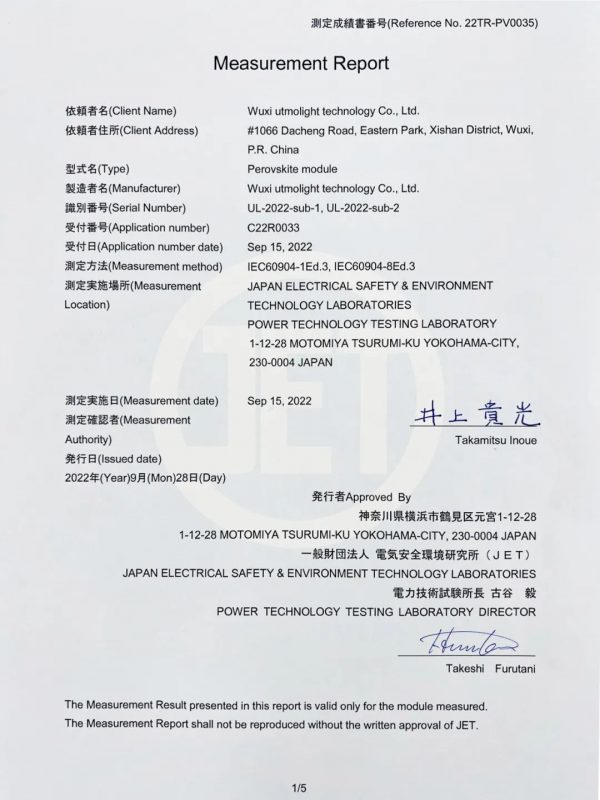 This is another breakthrough in the R&D of large-size perovskite solar modules following its 18.2% efficiency achieved on 300cm² modules in April this year. And UtmoLight is proud to expand the module area while maintaining its high conversion efficiency this time.
As a company focusing on the industrial development of perovskite technology, UtmoLight is very delighted to reach a new record to promote the mass production technology of perovskite. The company is invested by Great Wall Holding Group and supported by top experts across the world. As a competitive player in its filed, UtmoLight adheres to the vision of building a world-leading green energy company, and is committed to building a respectful resource-saving and environment-friendly enterprise. Built upon the development of perovskite technology and its industrial application, UtmoLight is advocative to generate efficient, economical and environmentally friendly green energy, to empower the industry advancement and sustainable development.