Yingli Green Energy Received the World's First Energy Yield Rating Certificate Issued by TÜV Rheinland with the Highest Grade
During the Inter Solar Europe in Munich, Germany on May 15, Yingli Green Energy, a PV enterprise, won the world's first Energy Yield Rating Certificate for bifacial power generation products issued by TÜV Rheinland, an authoritative third-party certification institution. It is reported that PANDA BIFACIAL, the dual power product of Yingli Green Energy, received the highest grade in the energy yield rating with the result of A++ this time.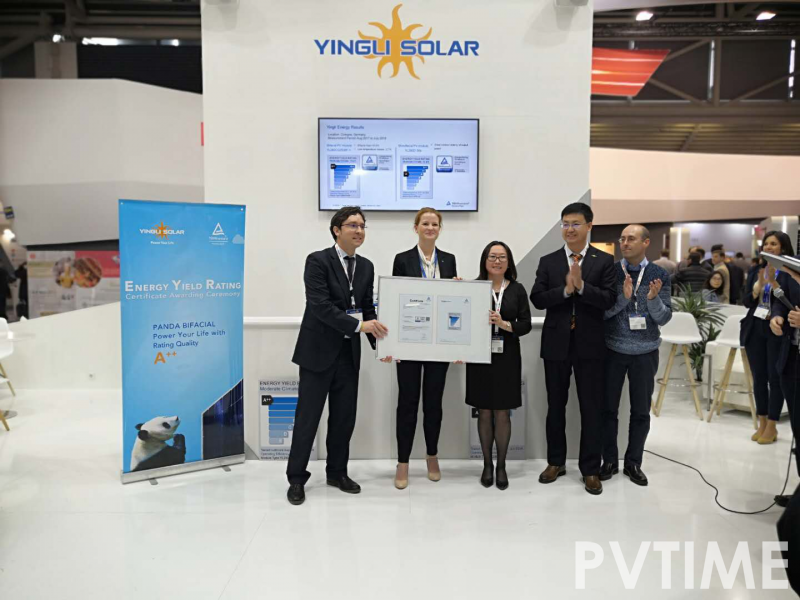 Ms. Ulrike Therhaag, Vice President of Solar Global Business Field at TÜV Rheinland awarded the first Energy Yield Rating Certificate for bifacial power generation products to Yingli Green Energy.
Mr. Xiong Jingfeng, CEO of Yingli Green Energy, Ms Hu Zhiyan, the Deputy General Manager and Chief Business Officer, as well as Mr Luis Contreras, General Manager of Yingli Green Energy Europe S.L. and Mr José María Román, the Lab Manager attended the ceremony.
"During the one-year rating test for bifacial modules, the energy efficiency grade of the modules at outdoor power stations is finally determined by comparing the power generation capacity through empirical tests, which can effectively support the outdoor power generation of PV modules," Johanna Nathaly Bonilla Castro, the Project Manager of Business Field of TÜV Rheinland said, "PANDA BIFACIAL has the highest energy efficiency in the bifacial power generation products tested, achieving the supreme grade of A++."
"PANDA BIFACIAL has passed the Potential Induced Degradation (PID) resistance test which is six times stricter than the conventional standards formulated by the International Electrotechnical Commission (IEC) and the hydro-thermal aging test which is four times stricter than the conventional standards of IEC. Thus, PANDA BIFACIAL's super strong capabilities in anti-PID and anti-hydrothermal aging guarantee its reliability under special circumstances," said Xiong Jingfeng. Thanks to the above technical advantages and product features, Yingli's PANDA BIFACIAL successively obtained the certification of bifacial power generation products from three major domestic/international certification bodies, i.e., CGC, UL and TÜV Rheinland, and it is also the first bifacial power generation product accessible to international market.
On the day of the Inter Solar Europe, Yingli also held a signing ceremony with Munich Re, an insurance group. It is introduced that Yingli Green Energy has insured the product and linear warranty to better secure customers. Dr. Marc Bednarz, Head of Green Tech Solutions APAC, Munich Re said, "It is a great pleasure to cooperate with Yingli Green Energy, and we will jointly bring effective and stable solutions to end customers."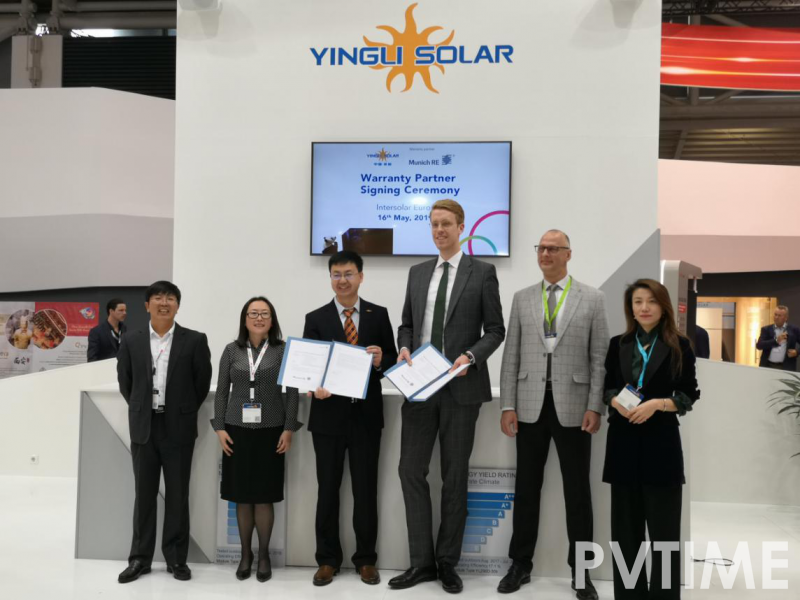 Hu Zhiyan said, "We have signed an agreement with Munich Re to jointly provide specialized insurance service for customers. With the support of Munich Re, the rights and interests of customers will be highly guaranteed. The all-round cooperation between Yingli and Munich Re fully demonstrates Yingli's emphasis and confidence in product quality. Besides, Yingli will continue to satisfy investors, fund raising institutions/owners, and bring them higher added value and more convenience in financing."