CHANGCHUN, China, December. 18, 2019 /PVTIME/ — On December 17th, Shanghai Zhenhua Heavy Industries Co., Ltd. (ZPMC)'s 21MW distributed photovoltaic power plant was awarded the world's first IECRE PV Power Plant Design Certificate and PV Power Plant Commissioning Certificate. Attendees of the awards ceremony held at ZPMC's Changxing branch included president of TÜV Nord's Asia-Pacific and Greater China region, Ren Jun; vice president of ZPMC, Zhou Qi; and members of the IECRE Inspection and Certification Institution.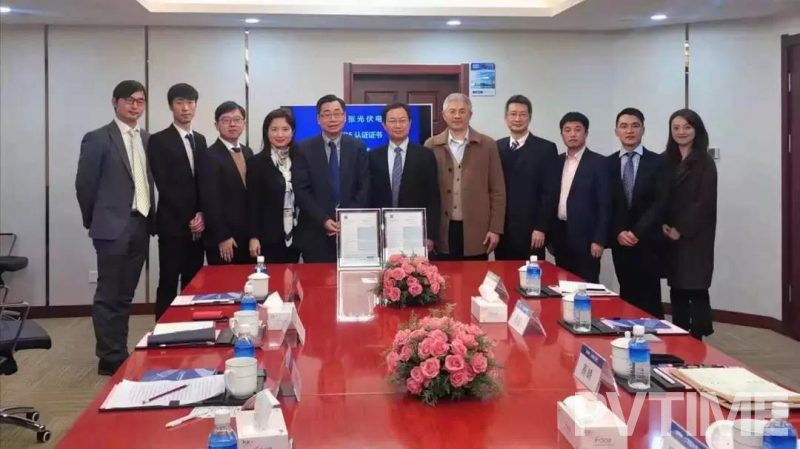 Established by the International Electrotechnical Commission (IEC) in September of 2004, IECRE is a mutual accreditation system for equipment used in renewable energy applications. Through the establishment of its high-quality and unified international accreditation and certification system, IECRE aims to promote the acceptance and recognition of its certification results by national level institutions and markets on a global scale, facilitating international trade, and achieving global adoption of the its certificates. In August of 2017, TÜV Nord became the first certification institution in China permitted to issue both IECRE certificates.
ZPMC's 21MW Changxing distributed PV plant was the largest single plant constructed in Shanghai in 2018. The project consists of 68310 high-efficiency silicon modules, 228 grid connected string inverters, bus boosting system, prefabricated switch station, and monitoring system. The grid connected power of the station could reach 10kV. The plant adopts the self-use model with the surplus electricity going to the grid.
The station, which was put into operation at the end of 2018, has an estimated annual power generation capacity of 18,903,400 kWh and a 25-year capacity of 472,585,700 kWh. The economic benefits of this project are quite evident in the fact that carbon emissions will be reduced by an estimated 471.16 million kilograms.
During the process of certification, the plant separately passed the strict review of multiple IEC criteria such as IEC 62548:2016, IEC 62446-1:2016, and IECRE OD-401:2019. Receiving these certifications represents that the design ability and the commissioning quality of ZPMC's 21MW Changxing PV plant has reached the international advanced level and ZPMC's PV business division will be widely accepted and recognized by the world. The IECRE certificates will help ZPMC promote the high-quality development of China's PV industry.
SOURCE: Shanghai Zhenhua Heavy Industries Co., Ltd.