PVTIME – SNEC 2023 Shanghai International Solar Photovoltaic Expo has come to the end. This exhibition attracted more than 3,000 Chinese and foreign photovoltaic enterprises, more than 500,000 professional visitors, 270,000 exhibition area, an unprecedented scale, is the largest photovoltaic exhibition in the world. The booth of Wujun Solar from Chongqing is particularly eye-catching. With the fresh and beautiful booth, professional quality and excellent marketing and technical team, the products of the new mass production of N-type and P-type PV modules, calended PV glass, N-type silicon wafer, has attracted many professional visitors, becoming the most eye-catching new star in E10 Exhibition Hall.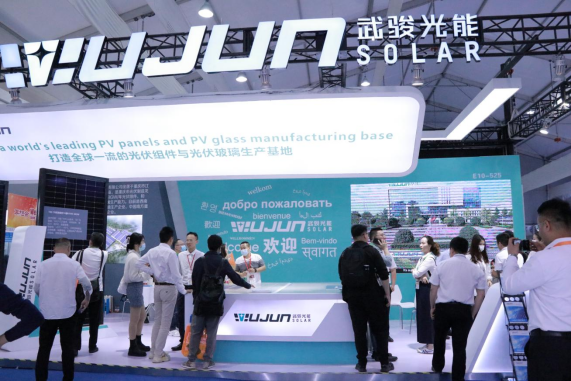 the booth of Wujun Solar
The cross-border enterprise with the broadest industrial chain layout
Wujun Solar is the subsidiary of A-share Hebang Biological (603077.SH). In recent years, Hebang Group has actively responded to the national call for "double carbon", as well as the development strategies of energy conservation and emission reduction around the world, and promoted the transformation and upgrading of its subsidiary Wujun Solar to photovoltaic industry with the concept of "focus and professionalism". Wujun Solar has distributed PV rolled glass, PV modules and N-type PV silicon wafers these three plates and mass production and sales, has become one of the cross-border enterprises with the most extensive industrial chain layout. At present, it is a famous PV glass shipment enterprise in China and an important PV module manufacturing enterprise in southern China.
Focus on process quality technology upgrade, and actively face the market.
Wujun Soar's PV modules have been widely used in distributed PV projects in East China, South China and central China, and has realized the innovation and mass production of 182-size PERC technology route to 182-size TOPCon technology route. PV glass adopts calendering technology, which not only has low pollution and excellent quality, but also is welcomed by domestic module manufacturers. At present, 1000t/d PV glass panel line and 900t/d PV glass backplane line have been fully put into production; 8GW PV module packaging production line has been put into production of 2GW, and the 6GW project project is progressing orderly.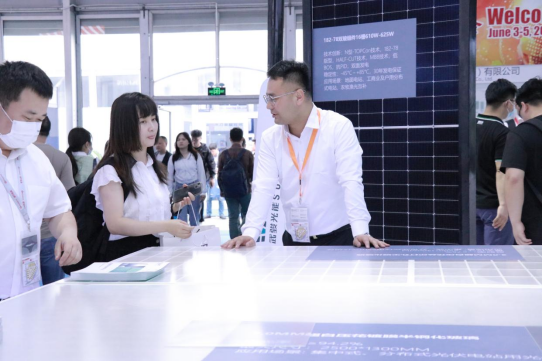 N-type monocrystalline silicon wafer, leading the battery new era
Fuxing Technology, controlled by Wujun Solar Energy, is a high-end intelligent manufacturing enterprise focusing on providing N-type ultra-efficient solar mono-crystalline silicon sheets for the photovoltaic manufacturing industry. The company is Anhui Province "double recruitment and double introduction" key project, Fuyang City new energy industry No.1 project. It plans to build 20GW of N+ type ultra-efficient single crystal solar silicon wafer production project, and has initially supplied silicon wafer products to the industry.