PVTIME – Von Ardenne, the leading supplier of coating equipment for the thin-film photovoltaic industry based on CdTe and CIGS technology and the high-efficiency solar cell industry based on heterojunction (HJT) technology, provides pro­duc­tion equip­ment that is able to meet the needs of next-generation heterojunction PV cell man­u­fac­tur­ers. At this year's SNEC in Shanghai, Dirk Bräunlich, General Manager of Von Ardenne Vacuum Equipment (Shanghai) Co., Ltd., expressed to PVTIME that HJT cell production needs to take the next step in scaling in order to compete against PERC.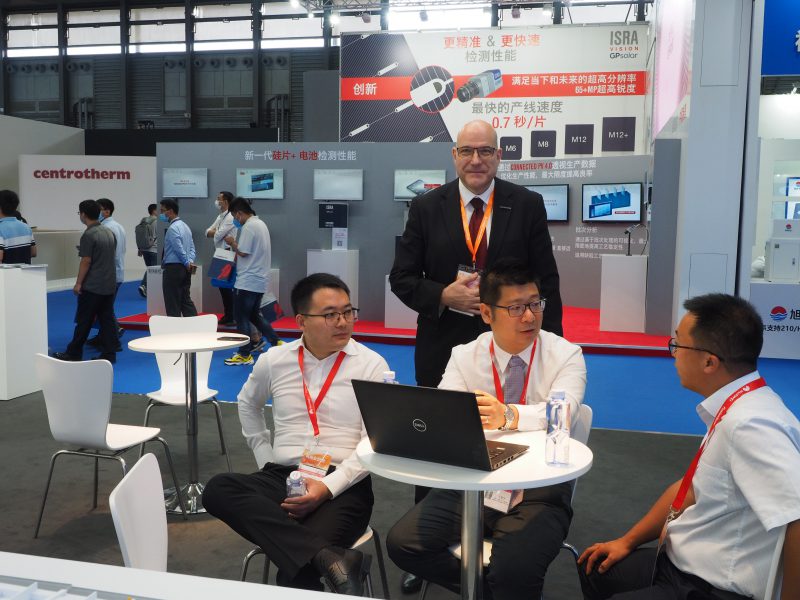 PVTIME: Hi Mr. Bräunlich, thank you for joining us today. What has Von Ardenne brought to SNEC this year?
Dirk Bräunlich: This year, we brought a very important piece of equipment to SNEC, the XEA|nova L8. The XEA|nova L8 is specif­i­cally de­signed for high-ef­fi­ciency so­lar ap­pli­ca­tions such as TCO and metal lay­ers for het­ero­junc­tion so­lar cells. How­ever, it is also suited for other small sub­strates. With this tool, even very thin substrates can be treated on both sides without breaking the vacuum or flipping the substrates. These outstanding features of the XEA|nova enable sequenced but also simultaneous treatments of both substrate surfaces. The coater can be equipped with rotatable magnetrons for sputtering and with evaporation sources. Also, special pretreatment of the substrates like cleaning or etching can either take place under vacuum or before the substrate enters the vacuum.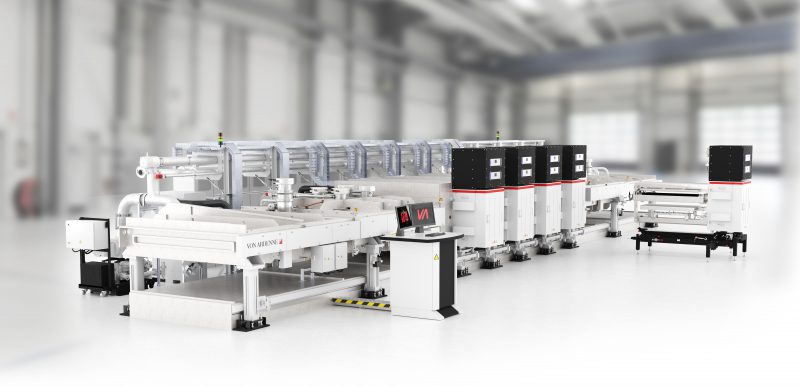 PVTIME: Can you share with us the distinct advantages of Von Ardenne's products, services, technology, as well as your unique selling point?
Dirk Bräunlich: What makes Von Ardenne different is that we apply our German technological process knowhow and utilize main components from qualified suppliers as well as our own in-house developed components such as the sputter, magnetrons, and the strongest magnet bars in the field. Also, we have localized the chamber sourcing and other components which are needed for the construction of vacuum coating equipment and are building the equipment close to our customers, avoiding the long-distance transport of the equipment which saves both time and cost for our customers.
In the future, especially if you want to be successful in the heterojunction market and compete with PERC, scaling is the key. Manufacturers need to have larger coaters with greater throughput, and the XEA|nova L8 is capable of that with its ability to produce 8000 to 10000 wafers per hour. Over the past few years, we have delivered up to 3GW in production capacity, demonstrating our technological knowhow and ability to provide reliable process-orientated equipment.
PVTIME: Being a major player in the thin-film photovoltaics market, please enlighten us on the current development and production of CIGS and CdTe coating equipment at Von Ardenne?
Dirk Bräunlich: Development for CIGS and CdTe is similar to the development of heterojunction technology, you need to scale. We have done that with some of our biggest customers in Vietnam and Malaysia who have been using our PIA|nova equipment for many years. As their substrate size increased significantly, we had to scale up their equipment to meet their requirements. For example, let's say you have a throughput capacity of 150MW with a standard machine. Nowadays, you can produce up to 500MW with one modern machine, eliminating three machines while accomplishing the same productivity. Also, the cost of ownership of these types of CIGS and CdTe processes is getting cheaper and cheaper as they scale up.
PVTIME: Tell us about Von Ardenne's other business segments in China.
Dirk Bräunlich: Aside from manufacturing coating equipment, Von Ardenne also has a huge base for our architectural glass segment in China, we have more than 45 pieces of equipment installed here. Since 2006, we have been providing our customers in China with excellent support while offering coating services at a cheaper cost due to the localization of our parts and processes. In turn, we have been getting frequent repeat orders from our customers. Our success in our architectural glass coating segment is something we would like to emulate for not only our photovoltaics segment but our energy storage, and electronics segments as well. We have been also developing certain products such as cathodes and anodes materials for our customers in the lithium-ion battery industry as well as products for our customers in the electronic display industry.
PVTIME: Can you talk to us about the development in the production of high-efficiency solar cells especially Si-based heterojunction solar cells?
Dirk Bräunlich: The HJT market has existed for several years and continues to develop. We are facing a situation now where it is becoming close to being competitive with PERC. One thing about HJT is that it has the capability to produce cells with really high efficiency, cells above 24%. For newcomers that are starting with a product in their line, it is not too difficult to reach 23.5-24% cell efficiency right away, which is quite unique. Also, the amount of equipment required to do so is much less than a PERC production line. In the past, there were not enough companies and manufacturers who could supply the equipment to the market, and the industry lacked engineers who were familiar with the process. However, we now have players in China that are offering turnkey solutions for companies who are wanting to do something other than PERC.
The future is really in HJT. Another fantastic possibility this technology brings is that you can transition to tandem cells which goes even above 25-30% in cell efficiency. At Von Ardenne, we are putting heavy efforts into R&D to make sure that we are prepared when this market is established. Again, scaling is the key point that we are focusing on with our products, making sure our equipment have high throughput and a proven process for high cell efficiency is our priority.
PVTIME: Can you elaborate on the production of the XEA|nova L8 and Von Ardenne's readiness to deliver the equipment?
Dirk Bräunlich: We will be producing XEA|nova L8 in China, we are already producing XEA|nova 5.5 with a throughput of 5500 wafers per hour in China. Therefore, we are prepared to begin production and the subsequent delivery process as soon as an order is received. Normally, delivery times are expected to be below 6 months, and that is definitely something we can achieve. Currently, we are talking to a few players that are wanting to scale up to beyond a GW. We are hopeful that they will place orders and allow us to help them accomplish their goal. With the XEA|nova L8, you only need three machines to reach 1.2GW in annual production capacity, and with the XEA|nova L10, you only need two to reach a GW, which is gorgeous!