PVTIME - Kulara Water, the leading pure natural mineral water producer of Eau Kulen in Cambodia, has signed a long-term agreement with TotalEnergies ENEOS to provide a solar energy and energy storage solution for their new bottling facility located in Srayang Thaung Village, Srayang Commune, Kulen district, Preah Vihear Province, Cambodia.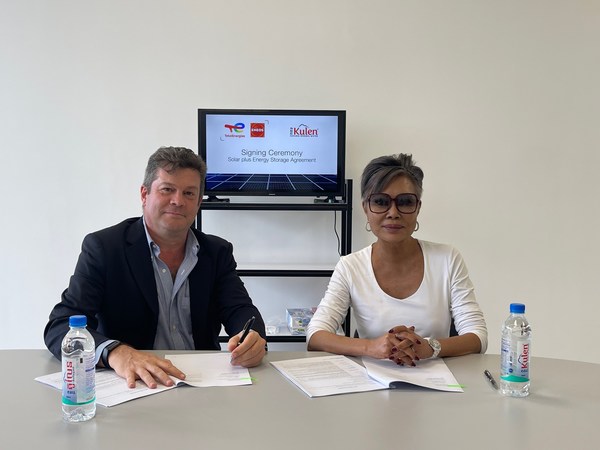 This is the second project for Kulara Water, who is widely recognized for its commitment to social and environmental impact as a keystone of its corporate strategy. The innovative system combines a hybrid of solar energy and battery storage, providing energy continuously. This includes an on-site 800 kilowatt-peak (kWp) ground-mounted solar system connected to a 1344 kilowatt-hours (kWh) battery system.
Solar energy is used during the day and excess power is stored in the batteries for use during the night. The installation of the system when completed will improve Kulara Water's energy efficiency, reduce power costs and ensure better access to power supply.
TotalEnergies ENEOS will remain in partnership with Kulara Water for the next 15 years to ensure the safe production and storage of energy in the system.
Margaret Forey, Chairwoman of Kulara Water, said, "We are proud to announce that we have commissioned our trusted partners TotalEnergies ENEOS to design, install and operate a hybrid solar energy and energy storage system for our second bottling facility in Srayang Tbaung Village, Srayang Commune, Kulen District, Preah Vihear Province. We are committed to sustainable development and growth, and are happy to be entering the second phase of our long-term partnership with TotalEnergies ENEOS to leverage their innovative hybrid solar solutions."
Gavin Adda, Director of TotalEnergies ENEOS Renewables Distributed Generation Asia said, "We are delighted to be trusted by Kulara Water as the solar energy partner of choice. TotalEnergies ENEOS provides its customers peace of mind from a technical, financial, and commercial perspective. As a leading solar service provider for commercial and industrial businesses, we look forward to supporting companies like Kulara Water to use our global experts of tailor-made renewable solutions for any business energy needs and drive down their carbon footprint, making manufacturing more sustainable."