PVTIME – Today, Tongwei Group announced its goal of achieving carbon neutrality by 2023 through the implementation of its carbon-neutral plan for green and low-carbon development.
According to the company's plan, utilizing the advantages of Tongwei's new energy industry, the company will vigorously develop the clean power generating capabilities of solar fisheries in order to achieve carbon emission reduction, and ultimately carbon neutrality. Tongwei will continue to promote China's energy transformation and help it realize its 2060 goal.
In September 2020, President Xi Jinping announced to the world that China will aim to achieve carbon peak by 2030 and carbon neutrality by 2060. Subsequently, Japan and South Korea announced their plans to achieve carbon neutrality by 2050 as well. Furthermore, during his first day in office, President Biden announced the United States' return to the "Paris Agreement" and its goal of achieving carbon neutrality by 2050. Presently, more than 190 countries around the world have agreed to jointly promote the energy transition and respond to global climate change.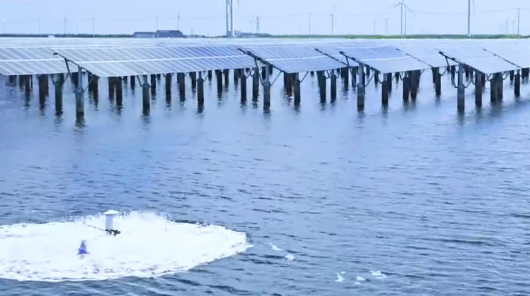 Solar fishery + PV power station (Source: Tongwei)
Since entering the photovoltaic new energy industry in 2006, Tongwei Group has been committed to green and low-carbon development. It has created two global leaders in high-purity crystalline silicon and high-efficiency solar cells production and has become a major player in the global energy revolution. According to statistics, during the entire production and operation of Tongwei's related industries, 67% of the total electricity consumption in 2020 came from hydropower, and only 33% came from thermal power. Tongwei's solar fishery power stations have spread to more than 20 provinces and cities in China. In 2020, the power generating capacity of these grid-connected power stations exceeded 2GW, and their annual clean power generation exceeded 2 billion kWh. Tongwei said that it will offset the company's use of thermal power through the vigorous development of solar fisheries for clean power generation, so as to achieve the goal of carbon neutralization by 2023.