PVTIME - Lasting military conflict has caused substantial damage to Yemen energy supply. Now, faced with fuel shortages, many of Yemen's hospitals, factories, farms, and residents are turning to solar as an alternative energy source. Suntech, since the fourth quarter of 2019, has supplied 10 MW in high-power PV modules to aid in the construction of these pumping and irrigation systems in Yemen.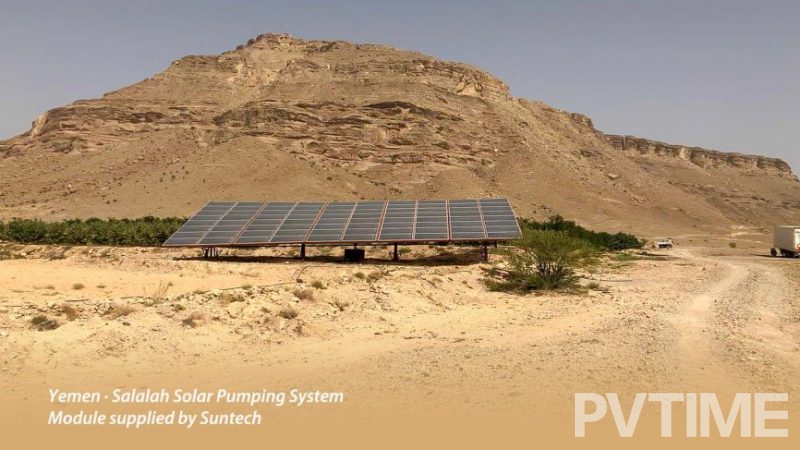 Agricultural production is the single most important contributor to Yemen's economy and about 71% of its population are farmers. However, with no rivers in Yemen, domestic farming relies on groundwater for irrigation. Previously, diesel powered pumping is the most common method of drawing water for irrigation systems in Yemen. However, due to rising oil prices and increasing local shortage of diesel fuels, many farmers are unable to keep their diesel pumps running. As a result, produce yields are threatened since many farms are unable to maintain normal production. Therefore, the adoption of PV powered irrigation systems as an alternative to diesel pumps has become a way out for the people of Yemen, alleviating their irrigation and produce yield issues.
At the end of 2019, Suntech signed a supply agreement with local distributors in Yemen for the supply of 10MW in half-cell monocrystalline PERC modules with 410W in power output. The 78 158.75mm cell design of these modules can effectively reduce the installation area and save on costs associated with manpower and mounting equipment. Compared to diesel powered irrigation systems, a PV powered irrigation system can reduce a farm's annual operation costs by about 5%.
In March 2020, the first group of
Yemeni PV irrigation systems powered by Suntech modules has been completed and
put into operation. According to the on-the-spot survey, this group generates
enough electricity to pump 800 tons of water per day, 770 tons of which are
used to irrigate 65 hectares of orchards and 30 tons are used for domestic
consumption needs.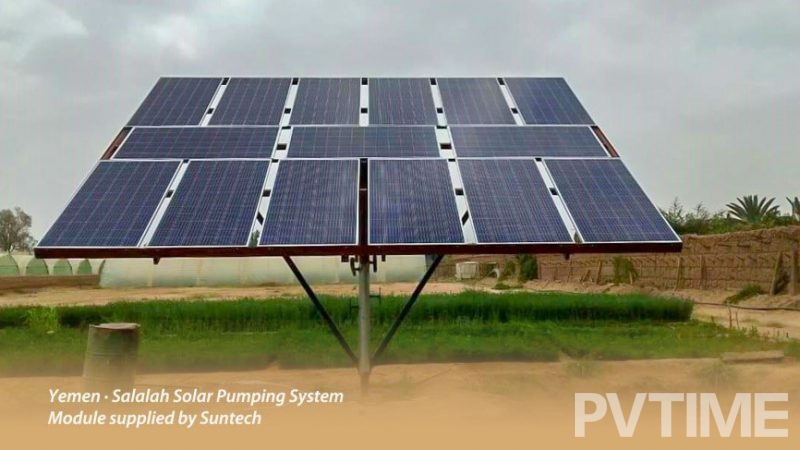 In recent years, Suntech has place more emphasis on developing the Middle Eastern market while adhering to the region's stringent requirements on module efficiency, power output, and reliability. In the future, Suntech will continue to improve its pre and aftersales services in the region whiling promoting the utilization of clean solar energy around the globe.