PVTIME - Recently, Suntech was awarded the "Solar Champion" seal
by Joint Forces for Solar, which marks a high recognition of Suntech's
consistent efforts in delivering better PV products and services and shaping a
well-reputed brand over the past 20 years.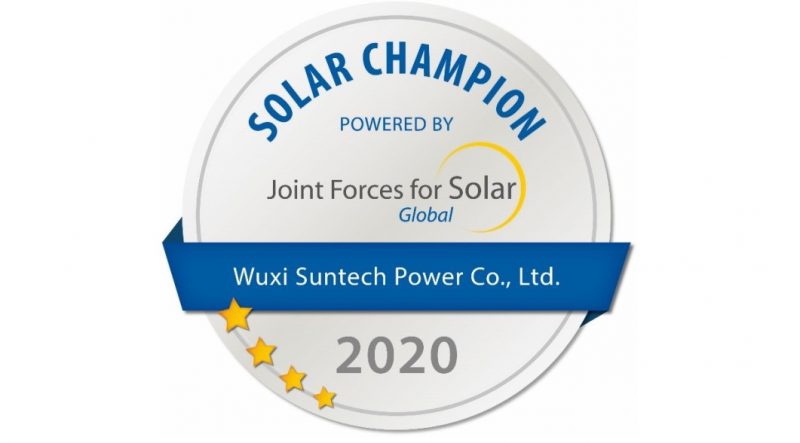 Co-established in 2009 by EuPD Research and Intersolar, two
sustainability research enterprises that lead in Europe, Joint Forces for Solar
(hereinafter refers to as "JF4S") seeks to coordinate the development
space for expanding solar energy technologies worldwide and create an energetic
clean energy industry. The "Solar Champion" seal, in accordance with
the review by the JF4S alliance, is designed to praise an enterprise that has
been consistently taking an active part in advancing the solar industry and has
achieved major progress in the fields of energy conversion and solar energy for
sustainable development.
"We are very honored to be rated as a Solar Champion
brand by Joint Forces for Solar, and this honor is not only a proof of our
product quality and powerful market reputation, but also a recognition of
Suntech's contribution to the PV industry," said Vincent Cao, Vice
President of Suntech. "Thanks to extensive operations all over the world,
Suntech as a brand has been increasingly accepted. Over these years, Suntech
increases export scale year by year, and repeatedly hits record highs in terms
of shipment volume, which has amounted to more than 21GW. Meanwhile, Suntech's
reliable PV products and customer services, as well as the implementation of
both international and localized market development strategies, play a key role
in stably expanding the customer base.
As the PV industry changes and evolves day by day, relying
on the brand's positive influence overseas, Suntech will constantly enhance
product quality and optimize the service system as a way to provide customers
with more reliable modules and professional services.