PVTIME - According to Wuxi Daily, on June 23, Wuxi High-Tech Zone and Asia Pacific Resources Development Investment Ltd. (APRD) signed a cooperation agreement. According to the agreement, Wuxi Suntech will invest 1 billion yuan to intelligently upgrade the production lines its P3 plant and expand its high-efficiency module production capacity by 1.5GW. Additionally, Suntech will also invest an estimated 2 billion yuan to construct a 150,000 square meter, 5GW next generation high-efficiency module manufacturing project in Xinwu District. After the project is completed, its annual sales is expected to reach 10 billion yuan.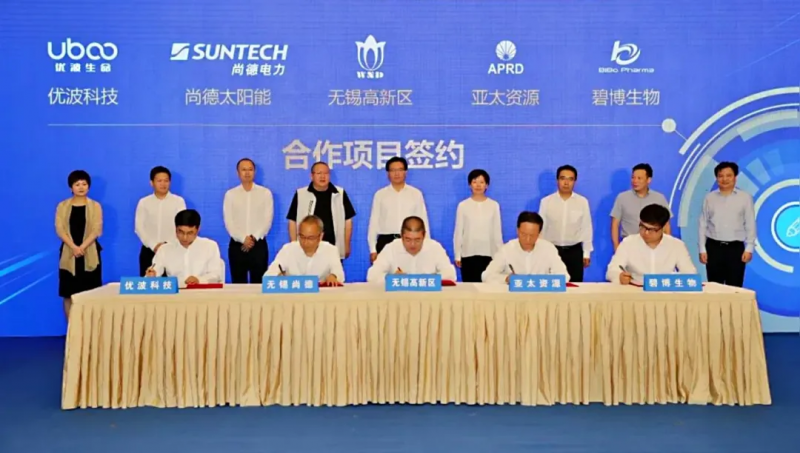 Huang Qin,
Secretary of Wuxi Municipal Party committee, met with Zheng Jianming, Chairman
of the Board of Directors of Asia Pacific Resources
Development Investment Ltd., and attended the signing ceremony. It is reported that on the basis of
previous cooperation, Asia Pacific Resources Development Investment Ltd. and
Wuxi High-Tech Zone are expanding their cooperation to beyond just photovoltaics.
The two Suntech expansion projects are a part of a 5 project agreement which
includes the construction of a new headaquarters and biomedicine production facility
for ARPD worth over 10.3 billion yuan in total.
During his speech, Huang expressed his gratitude to APRD for its
positive contribution to Wuxi's economic and social development in recent
years. He said that, "APRD and Wuxi have been bound through Suntech's
development over the past seven years, and through strong promotion and joint
efforts from all parties, Suntech has successfully revived its business. Wuxi
will, as always, create the best business environment and provide the best
government services for the development of ARPD and its affiliated enterprises
in Wuxi."
ARPD Chairman, Zheng Jianming, thanked the Wuxi Municipal Party Committee
and Municipal Government for their long-term support before presenting ARPD's
business development plans and industrial layout. He said that, "since the
acquisition of Wuxi Suntech, ARPD's various businesses in Wuxi have developed
rapidly and achieved good results, which is inseparable from the strong support
of all relevant departments at all levels in Wuxi. Wuxi's industry is strong,
and ARPD is very optimistic about our development prospects here. Going
forward, we will continue to carry out pragmatic cooperation with Wuxi in other
fields to better achieve mutual beneficial results."
Since ARPD acquired Wuxi Suntech in 2013, Suntech has not only stepped out
of the shadow of bankruptcy and reorganization, but also successfully
revitalized its business. Last year, it shipped more than 4GW in photovoltaic
modules worldwide and achieved sales revenue of nearly 8 billion yuan, both new
highs in recent years.