PVTIME – The 14th Forum GD Sul was held June 22nd through 23rd in Florianópolis, Brazil. As one of the pivotal players, Sungrow, along with industry professionals and academics, discussed trends within Brazil's distributed generation (DG) market, illustrating the prosperous future of the Brazilian energy transition and its sustainable development.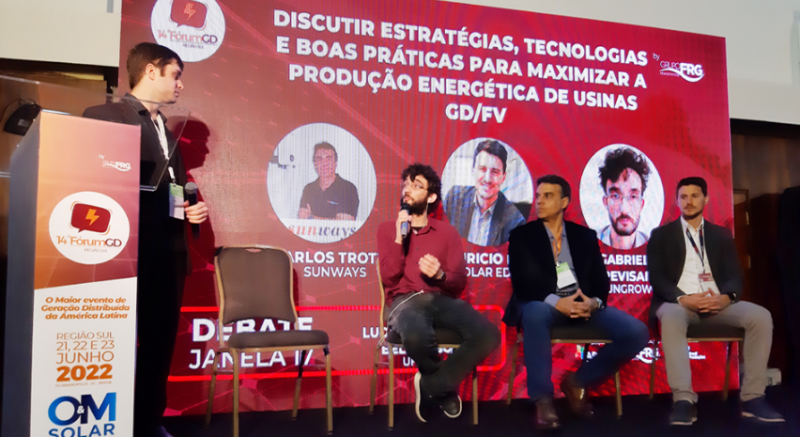 According to the Brazilian Association of Distributed Generation (ABGD), Brazil is expected to add 7 GW of DG capacity this year due to policy initiatives. The increased market demand requires more optimized solutions from equipment suppliers — including inverter suppliers.
Sungrow remains an innovation leader for every key system component. Sungrow Brazil's Technical Engineer, Gabriel Trevisan, presented on The Integration of a Solarimetric Station in a Monitoring System. The system displays the meteorological data including principal parameters such as air temperature, relative humidity, air pressure, wind speed, wind direction, and rainfall.
"In many cases, customers designate the installation's average energy generation as a contractual clause. However, during an atypical year, the installer can lose benefits. To avoid these losses, the best solution is installing a small weather station to measure the meteorological data," Trevisan stated.
The Sungrow system integrates the sensor within the logger itself and utilizes the same monitoring platform. This integration results in a more user-friendly experience compared to using separate equipment to communicate between the sensor and inverter. In particular, the Sungrow Logger 1000 has three inputs to map external equipment. The inputs are independent and can be connected to a direct switch and used as a slave.
The Company also shared its expertise in supplying typical projects. The presentations garnered audience attention as the necessity and ease of going solar was reiterated. Despite Sungrow's early entrance into the Brazilian market, the Company maintains its No.1 position in market share since 2019. Sungrow is prepared to further lead within the DG market, targeting to optimize project yields and streamline installation.