CHANGCHUN, China, December. 31, 2019 /PVTIME/ — SPIC Solar Power, a wholly-owned subsidiary of Huanghe Hydropower Development Co., Ltd., announced on December 23 that its mass produced IBC solar cells have achieved an average conversion efficiency of 23%. This major achievement comes after 3 months of fine tuning since the first IBC products came off the production line on October 19, signifying that the company's high-efficiency photovoltaic cells and modules have reached the world-class level.
On the same day, SPIC SOLAR and Italy's FuturaSun signed an export contract specifying the sale of 50MW of IBC modules to FuturaSun in 2020, marking a good start for SPIC Solar's international sales plans for 2020.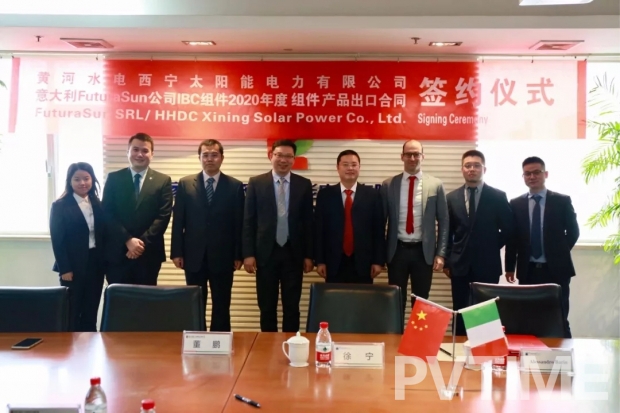 "SPIC SOLAR's IBC products are at an industry leading level and will be highly competitive in the high-end market., FuturaSun will strongly recommend its IBC products within the European market in 2020" said FuturaSun CEO, Alessandro Barin.
As Italy's second largest supplier of photovoltaic products, FuturaSun focuses on the production of high-efficiency photovoltaic modules as well as distributed PV projects in the European market, and is an important partner for SPIC Solar to have moving forward.
The sale of 50 MW of IBC modules may seem small, but for SPIC SOLAR and the province of Qinghai, it holds extraordinary significance.
This sale marks the first time that a SPIC SOLAR's photovoltaic product has entered the international market and is a significant milestone for SPIC SOLAR and Qinghai province's new energy industry and PV technology development.
As a core product of SPIC SOLAR, this international sale of IBC products is an important step for SPIC SOLAR's developmental strategy of opening up the overseas markets, increase the influence and recognition of SPIC SOLAR's products within the European market while opening up more channels for other products in the future. SPIC SOLAR and FuturaSun will cooperate extensively further on IBC, TOPCON, and PERC products, and jointly develop the international market together.
The introduction of "Policy 531" in 2018 has halted the rapid growth of China's photovoltaic industry of late, and photovoltaic companies have accelerated the pace of technical r&d and increased production capacity as a measure to reduce costs while enhancing competitiveness. SPIC SOLAR, while deploying high-end photovoltaic projects, has closely integrated its own development plan with the developmental strategy of Qinghai province, and through its technological innovations, demonstrated its commitment to Chairman Xi Jinping's message, "make every reasonable effort to develop the PV industry well", a statement he made during his official visit to its Xining branch in 2016.
SOURCE: Huanghe Hydropower Development Co., Ltd.