PVTIME – Today at market's open, Solis Stock (300763.SZ) opened at 67.63 yuan, a significant increase from the previous day's close of 63.81 yuan and continued its climb. A few minutes later, the daily limit of 10% was realized and there were no sell orders at the price of 70.19 yuan per share.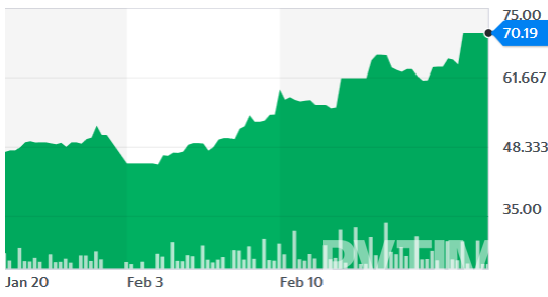 According to the SZSE, a total of 18300 transactions totaling 128 million yuan were exchanged today. This is the second time a daily limit had been reached for the company since February 12 of this year. Last year, the company had triggered the daily limit twice on March 22 and 26 respectively.
Since the Spring Festival, Solis' stock price has increased from 45.23 yuan to today's closing price of 70.19 yuan, a 55% increase in just 12 trading days. Year to date, the stock has increased 69%, earning the top spot within the new energy A-share market.
In October of 2019, Solis' financial statements revealed Q3 of 2019 to be the company's best quarter in 14 years of operation, with revenue from this quarter alone exceeding annual revenues from 2014 to 2016 combined.
Solis has announced that the annual report for 2019 will be released on March 31. According to the company's performance forecast, net profit is anticipated to increase by 14.46% to 135 million yuan.
During the reporting period, Solis focused on growing market share and profits through developing new domestic and international clients while maintaining its existing business, comprehensively strengthening marketing and aftersales service channels, increasing research and development investments, and improving brand influence.
Solis also estimates that net profit in 2019 will be negatively impacted by nonrecurring gains and losses of 4.0848 million yuan, mainly due to government of subsidies and forward gains and losses on foreign exchange settlements.