WASHINGTON, US, December.8, 2019 — U.S. tariffs on imported solar cells and modules have led to the loss of more than 62,000 U.S. jobs and 19 billion U.S. dollars in new private sector investment, according to a new study released by the Solar Energy Industries Association (SEIA) on Tuesday.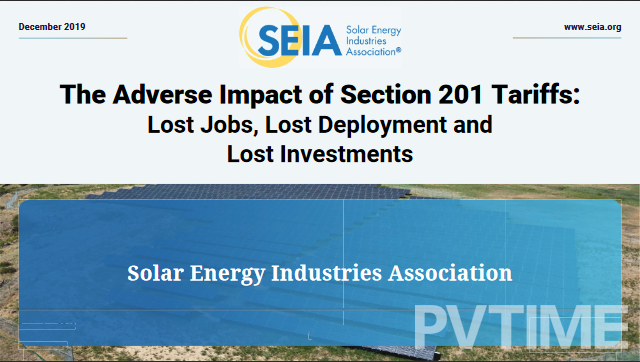 The study also showed that each new job created by the solar tariff results in the loss of 31 additional jobs, 5.3 megawatts of solar deployment and nearly 9.5 million dollars of investment.
Meanwhile, solar tariffs are costing the United States more than 10.5 million dollars per day in unrealized economic activity, according to the study.
The SEIA also estimated that the solar tariffs are largely hurting solar companies located in the nascent markets of Alabama, Nebraska, Kansas and the Dakotas.
The study came as the U.S. International Trade Commission will begin conducting its midterm review for solar tariffs later this week.
The Trump administration announced in January 2018 that it would impose safeguard tariffs of up to 30 percent on imported solar cells and modules for the next four years.
The move marked the first time since 2001 that the U.S. government has used Section 201, an outdated tool under the rarely used Trade Act of 1974, to unilaterally impose tariffs or other trade restrictions on foreign imports.
It has spurred opposition from U.S. industries, Republican lawmakers, free-trade advocates and Asian manufacturers.
"Solar was the first industry to be hit with this administration's tariff policy, and now we're feeling the impacts that we warned against two years ago," said Abigail Ross Hopper, president and CEO of the SEIA.
"This stark data should be the predicate for removing harmful tariffs and allowing solar to fairly compete and continue creating jobs for Americans," she said.
SOURCE: Xinhua