PVTIME – "During this challenging period, many difficulties such as reduced manpower and transportation restraints arise one after another. However, TBEA has converted the "impossible" into reality through its intelligent and efficient operation and maintenance of power stations and provides data support to power stations anywhere, anytime."
Breaking the limitations of time and space
Since the reversal of tariffs placed on Chinese solar modules by the EU and US in 2012, the Chinese photovoltaic industry has developed rapidly with the introduction of a series of encouraging policies. By the end of 2019, the cumulative scale of existing photovoltaic power station in China has exceeded 20GW and digitalization and production scale have become defining characteristics of China's solar development. This rapid increase has led to higher demands in ensuring the efficient operation and management of PV power stations.
"Traditional operation and maintenance methods and monitoring models cannot meet the basic operation demands of power stations," one TBEA New Energy technician said.
High maintenance costs, equipment failure rates, low power generation efficiency, and information management incompetency are several common constraints affecting the nominal operation of PV power stations.
"To solve these difficulties, better solutions certainly need to be developed," the technician emphasized.
With this in mind, TBEA launched the Solar Plant Data Service Integrated Solution: Solar Partner.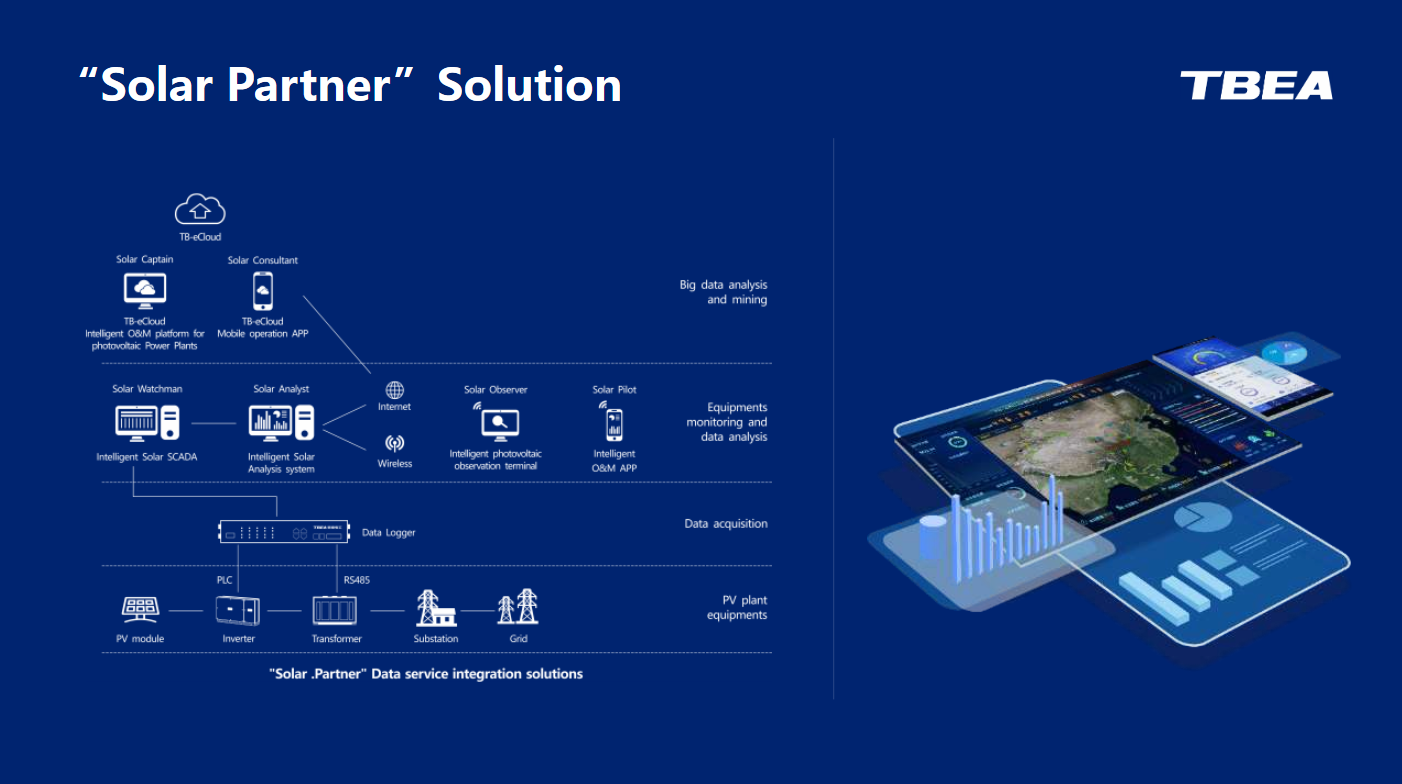 The Solar Partner solution utilizes various big data analysis methods to optimize the O&M of PV power stations and helps the stations reduce waste, increase revenue, and achieve lean and intelligent operation and maintenance. The integrated solution consists of "TB-eCloud O&M Platform for PV Power Plants", which provides O&M services such as remote monitoring of equipment status, remote inspection, remote fault handling, and remote intelligent diagnosis; "TB-eCloud Solar Watchman-Intelligent PV SCADA" offers equipment data acquisition, digital modelling of power stations, and remote equipment control; "TB-eCloud Solar Analyst" provides IV curse smart scanning and analysis, equipment operation analysis, station health analysis, and station KPI analysis; "TB-eCloud O&M Platform for Wind and Solar Power Prediction System".
"Solar Partner has broken through the limitations of time and space, replacing human judgement with artificial intelligence, and manpower with science," the technician added.
Moreover, TBEA's "Drone Inspection System" has successfully overcome the recognized technical problems associated with the inspection of PV power stations such as the identification and location of module fault locations and is utilized to inspect stations on flat, hilly, mountainous, and floating terrains
Through professional analysis, TBEA New Energy found that in PV power stations, the failure of junction boxes accounted for 56.12 of all faults, and the failure of modules, inverters, brackets, and connectors accounted for 33.5%, 2.54%, 3.4%, and 3.72%, respectively. Traditional monitoring systems placed at power conditioning units are unable to effectively monitor these most problematic fault points.
TBEA New Energy treats monitoring symptomatically by combining its intelligent system with its drone inspection system, creating a three-dimensional intelligent care monitoring system for PV power plants.
Ridding manpower and material limitations, eliminating losses in power generation
"If the power station is inoperable for one day, then the loss in power generation from that day cannot be made up for. So if you want to be more profitable, you need more stable power generation from the station," TBEA New Energy's technician commented.
TB-eCloud O&M Platform for PV Power Plants breaks the traditional dilemma of reliance on manual onsite monitoring, inspection, and troubleshooting. Taking a 20MW PV power plant as an example, the manual inspection requires having a technician check 4480 points during the O&M process, which takes about 60 hours. For a 320MW PV power station, it takes one technician about 4 days to find and record the points of interest. These calculations are also assuming that the technician is an experienced one operating under nominal weather conditions. In reality, the time it takes to manually complete these tasks will be greater.
TB-eCloud Solar Watchman-Intelligent PV SCADA and TB-eCloud Solar Analyst solves problems associated with traditional monitoring systems more efficiently and captures important information faster.
For example, monitoring systems for power conditioning units and the photovoltaic array are separated, so that key areas can be focused on individually. At the same time, fault alarms are partitioned, categorized, and graded, so that emergencies are handled promptly based on their priority.
Practical applications show that PV power stations with TB-eCloud O&M Platforms have improved automation in defect warnings, reduced number of onsite inspections of equipment, accurate fault locations, reduced O&M costs, and increased power generation by 3%, and revenue by 1%.
TBEA New Energy has said that, in its medium and long-strategic objectives, the company will integrate various aspects from its engineering, power generation operations, equipment manufacturing and other sectors to provide a full set of software products and data service solutions. TBEA New Energy will also explore new models of clean energy related software and services in the future and strive to become the world's leading clean energy data service provider.