PVTIME – On November 4, Sineng Electric Co., Ltd. (hereinafter referred to as "Sineng Electric" or "the company", SZ300827) held its new product launch ceremony in Wuxi.
Following the launch ceremony, the company held its first media conference since listing on the GEM. The company's president Duan Yuhe, vice president Li Jianfei, and solution division general manager Wang Yuelin, were among the panel of leaders who accepted dozens of questions from the media.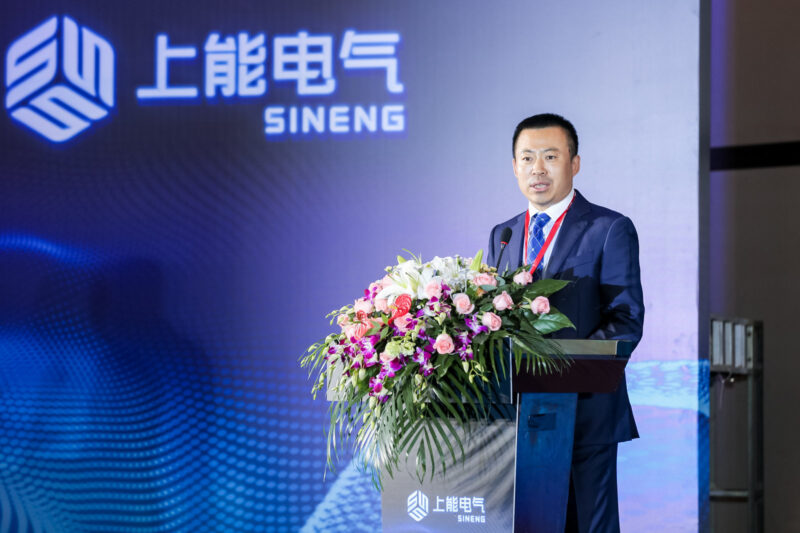 Sineng Electric President, Duan Yuhe.
Addressing the media, Duan Yuhe said, "This is the first media conference in the history of Sineng Electric, and everyone has been anticipating it for a long time. We very much ready to listen to your opinions and learn from your suggestions through this face-to-face communication."
The following are some of the key questions and answers:
What is Sineng Electric's current global strategy?
Affected by the pandemic this year, Sineng Electric's overseas business has indeed undergone certain changes. Since many Chinese business people can't leave the country, nor can overseas people make it in, this epidemic has brought benefits to some companies that have been operating overseas for a long time and have developed larger distribution networks. At the end of last year, Sineng actually had many ideas and business strategies for developing the overseas market, but the pandemic has proven to be an encumbrance. However, we believe that in the future, our overseas market share will gradually increase, and there are still many opportunities going forward.
Are there any specific overseas business plans?
In 2019, Sineng's shipments to India exceeded 1GW. Other regions including North Africa, South America, and the Commonwealth of Independent States are also markets with potential. The Indian market as a whole has declined this year and may have declined from the previous forecast of 10GW, but Sineng Electric's market share in India is still increasing.
Affected by some regional factors, the world's more well-known inverter manufacturers such as ABB and SMA still account for a certain proportion in Europe and other regions. However, we believe that Chinese products' cost performance has shown great competitiveness, and there will also be gains in Europe.
As far as the US market is concerned, due to changes in demand and market competition among some inverter manufacturers, Sineng will also have more opportunities. In this regard, we have made preparations and looked into future developments there. In the next two to three years, through various business innovation and active product research and development, Sineng Electric will develop more products suitable for the comprehensive needs of utility-scale, distributed, wind, and solar energy storage applications, and strive to make the overseas and domestic market activity reach a 7:3 split.
Presently, many distributed manufacturers are also entering the utility-scale power stations segment. Can you comment on this? What are the company's advantages in the utility-scale segment?
It should be said that the overall market is undergoing transformation. Utility-scale enterprises are moving into the distributed segment, and distributed inverter manufacturers are entering the utility-scale segment.
The difference between Sineng and others is that our company's technical team is from the inverter business team of Emerson, one of the world's top 500 companies. We have outstanding R & D capability and personnel. When we founded our company in 2009, we chose a more difficult route, that is, to focus on larger inverter products and it seems that this was the right decision. Now, looking back on our past technology accumulation and market expansions, we have achieved certain advantages and will continue to maintain them in the future. Generally speaking, our utility-scale inverter products have outstanding advantages in three areas:
First, they are different in scale. Relatively speaking, utility-scale power station products are more complex and iterate very quickly (for example, the 250 kilowatt inverter product we launched this time is a new generation of products suitable for utility-scale power stations).
Second, some utility-scale products need to pass a lot of tests. This cannot be done overnight, but we have done so step by step.
Third, the safety protection requirements of utility-scale power stations are higher. All in all, Sineng has also been recognized by many partners in many aspects. We are relatively more confident in our products, technology, innovation capabilities, and understanding of the market. We are very confident in our ability to continue to operate in this manner.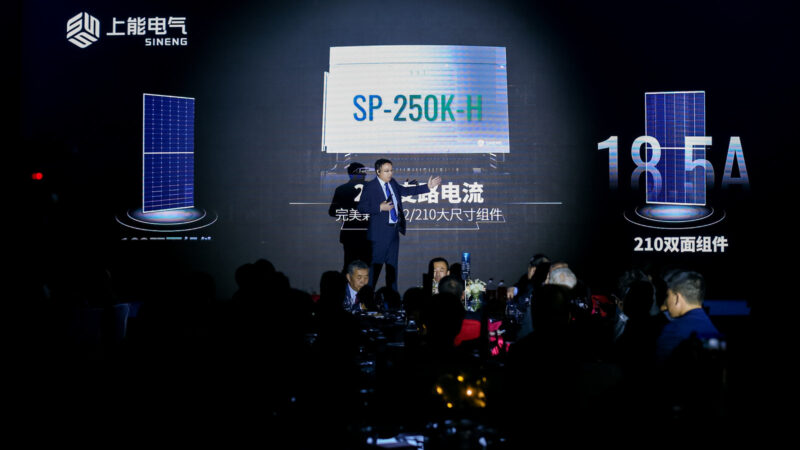 Launch presentation of Sineng Electric's SP-250K-H.
During today's new product launch event, Mr. Wang Yuelin gave a speech titled "Extraordinary Innovation" and mentioned the innovative highlights and technical advantages of the new SP-250K-H inverter. With an output power of 250kW, and maximum reaching 275kW, which is the highest power level in the industry. At the same time, it also has a maximum input current of 20A, and is compatible with 182 and 210 large-size modules. What do you have planned for the development of inverters for utility-scale power stations, in terms of compatibility with high-efficiency modules, and in terms of cost reduction?
This question is great. We see that the Chinese market is reaching the point of grid parity, and many regions abroad have already done so. The increased power of the inverter can indeed effectively reduce the system cost. However, paring bigger inverters and modules don't necessarily equate to lower costs. Sineng will continue to do more research and work to effectively reduce the cost of the system through compatibility between the two.
As for Sineng itself, our view is very clear, that is, to get past the inverter price wars of the past. Because everyone knows that the profit margin of domestic inverter products is getting lower and lower. We believe it's more important to evaluate a product's innovative power through effective technological innovation and the cost reduction it brings to photovoltaic power plants over 25 years. This view has also been highly recognized by many power station owners and partners.
In the future, will Sineng plan to take action in the distributed segment? Can you reveal your views and thoughts?
We are actually very optimistic about the distributed segment. Data tells us it will occupy a large proportion of the PV market in the future. We are hoping to further improve in several areas. First, we must continue to make the technology of our inverter products and other products more reliable, which we have a strong track record of doing. Second, the company will invest more in artificial intelligence. Third, the inverter is the only product in the world that provides many conveniences for the remote operation and maintenance of photovoltaics. We will also devote more effort to improving the operation and maintenance of inverters. Fourth, different regions have differing objectives. We will carefully study and approach each situation appropriately.
We have noticed that the company has established an EPC company. Will Sineng be able to do anything in this regard in the future?
We indeed have, but it is still too early to say that it will become a profitable venture.
From the financial report on October 29, it can be seen that Sineng Electric's revenue for the first 9 months was 631 million yuan, a year-on-year increase of 5%, and your net profit increased by 8.2%. How does the company evaluate its overall business performance in the first three quarters?
Although the overseas market has been affected by the pandemic, since the second quarter, due to the effective domestic control of the pandemic and the state's support for utility-scale and distributed businesses, our business rapidly recovered. Sineng has been the core supplier of inverter solutions for front runner bases for four consecutive years. In the third quarter of this year, the company's revenue was 379 million yuan, an increase of 68%, and our net profit increased by 24%. Our status as a core supplier of utility-scale power stations remains unchanged. Fortunately, in our domestic business, the total number of tenders we have participated in and orders from important companies we have received this year are on the rise as well. As a leading provider of photovoltaic inverter and energy storage solutions, we will continue to add products and strengthen our position in the Asia market as a top three photovoltaic inverter provider.
Sineng Electric's core products include centralized, string, and distributed inverters. What are your specific plans for these segments in the future?
We pay great attention to R&D and the accumulation of technology platforms and have Emerson's DNA in our genes. In this regard, we have high expectations and requirements for ourselves. Application scenarios vary for each of the three inverter segments you mentioned, and they all have room for growth in the future. More importantly, the development space for those segments in the global mainstream and emerging markets is substantial, so we will deploy strategies aggressively.
From the perspective of string inverters, we have 3 to 250kW full power range products, which are used in distributed and utility-scale photovoltaic power station scenarios. As for centralized inverters, we also have 500 to 3400KW products for ground, floating, and industrial and commercial rooftop photovoltaic power stations. With a conversion efficiency exceeding 99%, we believe our centralized inverters will demonstrate their outstanding performance in many utility-scale power stations in emerging markets going forward. Our distributed products combine the advantages of our string and centralized products and can adapt to various harsh environmental conditions. In the future, they will have improved performance on the ground, floating, and mountain power stations.