PVTIME – On July 22, Sineng Electric announced the commissioning of its 10GW high-efficiency inverter production base in Tongxin County of Ningxia province.
Wang Wei, Deputy Secretary of Wuzhong Municipal Party Committee and Secretary of Tongxin County Committee, Yang Chunyan, Deputy Secretary of Tongxin County Party Committee and Acting Magistrate of the County People's Government, Shen Yanfeng, Deputy General Manager of China National Nuclear Corporation, Wu Qiang, Chairman of Sineng Electric, and Li Jianfei, Vice President of Sineng Electric, attended the commissioning ceremony.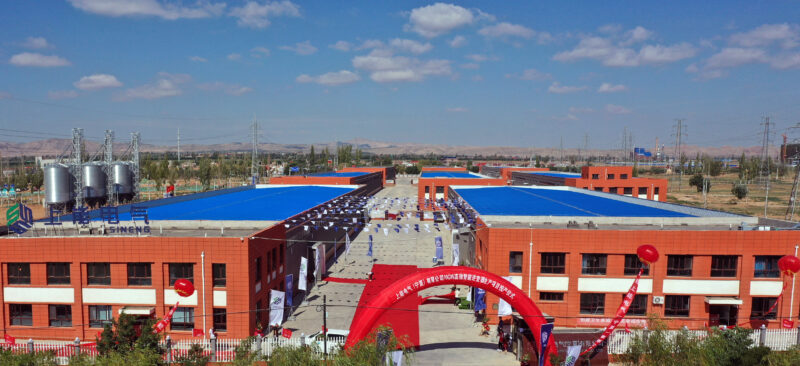 As one of Sineng's most important production bases, the Ningxia Tongxin base is built in accordance with the world's leading inverter manufacturing standards and is responsible for the production of high-quality inverter products. The smooth commissioning of the project will further boost Sineng Electric's production capacity and continuously improve its ability to meet the market demand from global customers.
Wu Qiang, Sineng Electric Chairman, said, "The commissioning of the Tongxin base is another milestone in the company's development history. On the journey to becoming a world-class power supply company, Sineng Electric leads the industry through continuous technological innovation. While progressing and realizing the development and growth of our own business, we are also accelerating the application of green energy around the world and implementing the concept of sustainable development."
In 2020, Sineng achieved annual sales of 6GW inverters, 4.1GW domestically, an increase of 18.88% year-on-year, and 1.9GW internationally, a year-on-year increase of 27.30% (including 1GW shipments in the Indian market, an increase of 50% year-on-year). Currently, Sineng's on-hand inverter orders have reached 4.9GW.
In the first quarter of this year, Sineng achieved revenue of 160 million yuan, an increase of 51.54% year-on-year, and a net profit of 15.56 million yuan. The company's energy storage business also surged by more than 200% last year. In addition to the long-term stable share of the domestic large-scale inverter market, the company is also fully deploying products in Southeast Asia, India, and overseas markets.