Risen Energy Co., Ltd. (hereinafter referred to as "Risen Energy") brings a newly researched and developed technology outcome HDT (Heterojunction Double-side Technology) to this year's Intersolar Exhibition in Germany, and launched the latest innovative achievement to the media and industry on the first day of the exhibition.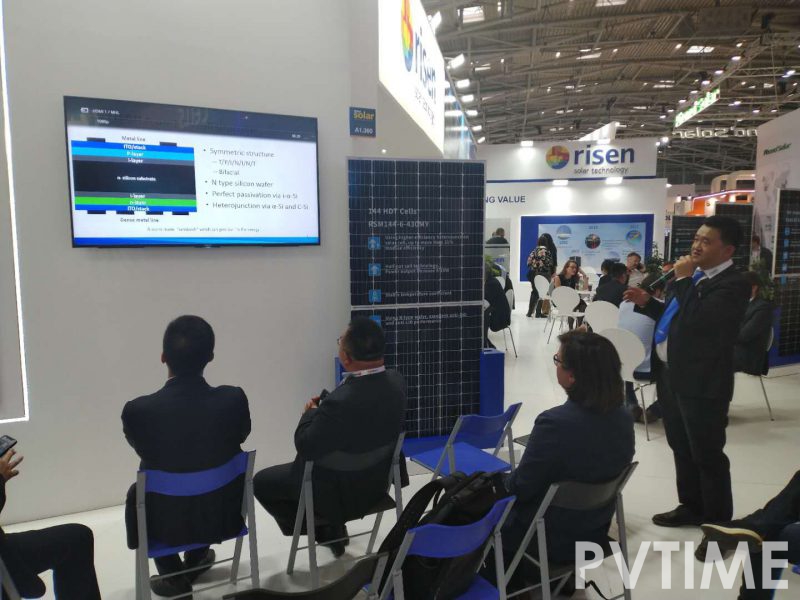 This new type of HDT module deploys high efficiency double-side heterojunction cell technology. HDT is a type of double-side light-receiving heterojunction cell, which has the characteristics of low production temperature, high conversion efficiency and low temperature coefficient. HDT cell highest conversion efficiency can exceed 23%. Besides, HDT module can generate power from both sides, and achieve 10%~30% additional energy yield. HDT cell deploys half-cut design, which can effectively reduce the loss of module internal resistance, hot spot effect and shadow shading, improving product reliability. HDT also boasts of its stable temperature co-efficient,the absolute value of power and temperature coefficient can be reduced by 40%, and HDT modules can achieve 6%~9% additional energy yield in high temperature environment. HDT solar cell deploys N-type mono-crystalline wafers, which reassures the product performance stability. HDT cell technology is highly anti-PID (Potential Light-induced Degradation),and is excellent on anti- LID (Light Induced Degradation) performance . The seven highlights of HDT technology are correspondent with the seven layers of HDT cells, and complement each other.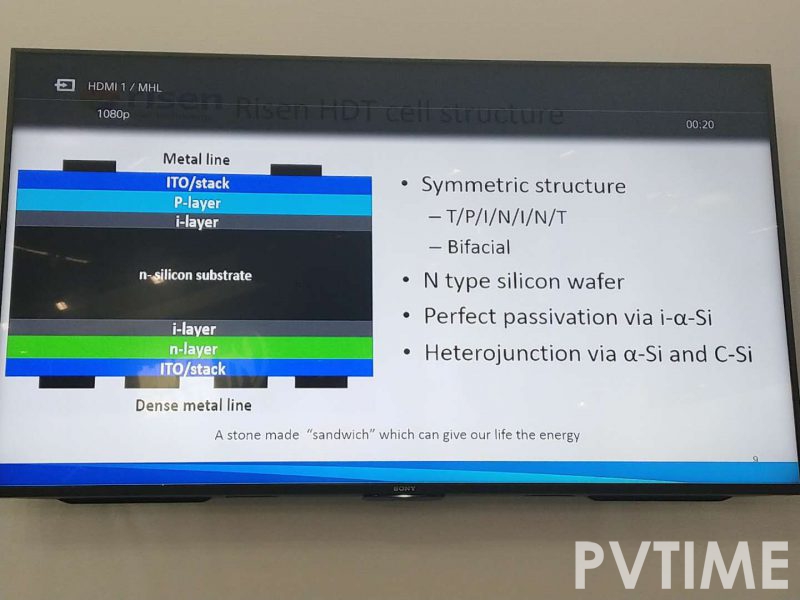 President of Risen Energy, Wang Hong commented, "Heterojunction cell technology and its concept have been discussed for many years. Due to its sophisticated technological structure and high cost, the terminal users always felt the distance with HDT. For the past few years, Risen Energy made consistent efforts on R & D and made another milestone progress on HDT and its mass production, right after Jäger high efficiency mono-crystalline technology. Risen Energy shortened the gap between the 'luxury' HDT and terminal customers and unveiled the secret technology, which combines silicon technology, amorphous silicon technology, half-cut procedure, double-side process, to terminal applications. HDT is another solid proof for Risen Energy's sustainable innovation and will be another 'surprise' Risen Energy presented to our global clients. "
Risen Energy team and the lasted HDT technology will expect your arrival at our Intersolar booth.