PVTIME – On October 21, Renesola Energy Nantong Co. Ltd (a joint venture between Zhongnan Industry and ReneSola Yixing Co., Ltd,) , signed a cooperation agreement with Hai'An Economic and Technological Development Zone to set up the new manufacturing facility. The total investment of the project will be 2 billion yuan, mainly for solar PV products and sales. Renesola Energy Nantong Co., Ltd. which is a joint venture between Zhongnan Industry (a large conglomerate in China) and ReneSola Yixing Co., Ltd. (a world reputed solar PV manufacturer), will be mainly engaged in the manufacturering and sales of solar PV modules. The strong financial support of Zhongnan Industry and vast manufacturing experience of ReneSola will maximize the benefits for the JV.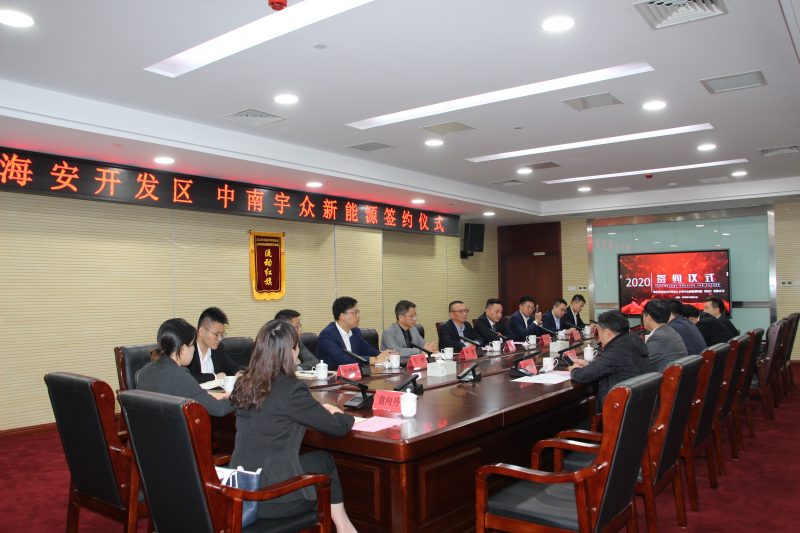 In April 2020, ReneSola signed a $100 million strategic investment agreement with the Zhongnan Industry to enhance the solar module manufacturing supply chain, and later in September, both the organizations announced their JV to set up the additional 3GW manufacturing facility.
Mr. Ren Yongfeng (Director of the Hai'An Development Zone) signed the cooperation agreement with Mr. Wan Lirong(Director of the Renesola Energy Nantong Co., Ltd.).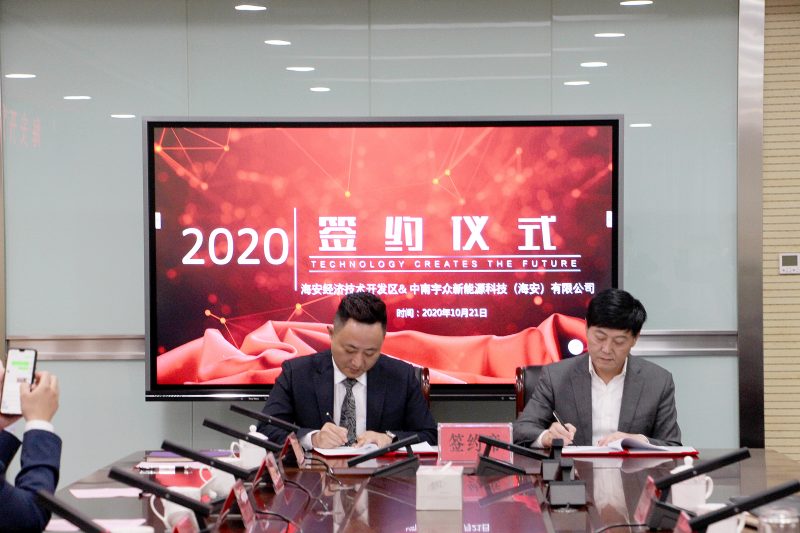 Mr. Yan Changjiang (Member of the Hai'An Standing Committee) congratulated the successful signing of the project. He said that Hai'An will fully promote the optimal policy to push the project to be put into operation as soon as possible. Hai'An will support enterprises to become bigger and stronger, and realize win-win results.
Mr. Sky Wang (CEO of ReneSola Yixing Co., Ltd) mentioned that this new venture will add more value to our supply chain, make the ReneSola modules more accessible and affordable for the customers worldwide, and further support our expansion plans in the new global markets. The new manufacturing unit will start production by the end of 2020.
Mr. Zheng Lei (CEO of Zhongnan Industry, a subsidiary of Zhongnan Holding Group), said that the new venture is expected to have solar PV manufacturing annual production capacity of 3GW. The company will continue to speed up technological innovation, adhere to strict quality management, and strive to hand in a satisfactory answer sheet to customers worldwide.
About ReneSola:
Founded in 2005, ReneSola is a leading international brand of PV modules. Leveraging its global presence with its worldwide offices, warehouses, expansive production facilities, and sales network, ReneSola is well positioned to provide the highest quality of green energy products and on-time services for EPCs, installers, and green energy projects around the world.
Having accumulated more than 20GW in sales worldwide, ReneSola serves a large number of customers around the world ranging from small rooftop owners to large solar farm developers. ReneSola is a reliable and long-term partner of its valued customers and investors.
About Zhongnan Industry:
Zhongnan Industry is a subsidiary of Zhongnan Holding Group, one of the largest conglomerate in China. The group aims to build a modern enterprise dominated by its two core industries, engineering construction, and cultural creativity. Founded in 1988, Zhongnan Holding Group now has more than 100,000 employees and owns two listed companies, Zhongnan Construction (SZ000961) and Zhongnan Panshi New Energy (871460). Zhongnan Holding Group is a top 500 ranked Chinese enterprise whose total sales volume exceeded USD 40 billion in 2019. In 2020, Zhongnan Holding ranked 78, ranking up 16 places compared with 2019.