Click for free registration
PVTIME – On March 31, as a part of PVTIME's Global Events Series, the 2021 Australian Solar and Energy Storage Innovations Forum will focus on showcasing and discussing the exemplar progress of Australia's rapidly growing PV market, providing insight on the latest and most advanced module, inverter, energy storage, and tracker technologies, and creating an exchange platform for all who wish to be drivers of the energy transition.
As one of the biggest and most attractive markets for solar developers, Australia should be used as a reference by other nations that are looking to reduce fossil fuel reliance. In 2020, a year heavily impacted by COVID-19, Australia still managed to add 333,978 rooftop installations cumulating 2.6GW. Australian homeowners have demonstrated to the world their widespread acceptance of solar energy generation systems and can help those who are on the fence about investing in a system of their own make their decision.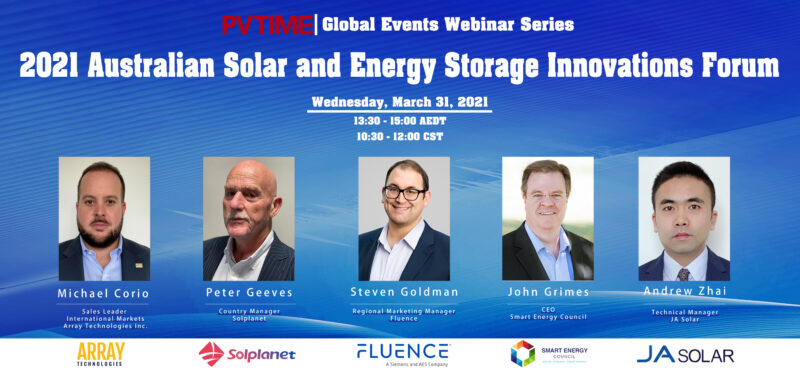 This event will feature five distinguished guests from varying solar operations and organizations each bringing their unique perspective and expertise on solar technical innovations and developmental trends.
Guest Speakers:
Michael Corio – Sales Leader International Markets – Array Technologies Inc.
Peter Geeves – Country Manager – Solplanet
Steven Goldman – Regional Marketing Manager – Fluence
John Grimes – CEO – Smart Energy Council
Andrew Zhai – Technical Manager – JA Solar
Moderator:
Benjamin Zhang – International Relations Manager – PVTIME
Solar plant owners, investors/financiers, O&M enterprises, module manufacturers, inverter manufacturers, EPCs, developers and installers, energy management companies, and any other parties interested in the well-being of Australia's PV industry as well the global energy transition are encouraged to join us at 13:30 PM AEDT on March 31 to attend the webinar and the Q&A/panel discussion session that follows.
Click for free registration