PVTIME – On Augst 7, Chinese wafer and module manufacturer LONGi introduced its first BIPV product, LONGi Roof, at its product release ceremony held at the InterContinental Hotel in Shanghai just ahead of the opening of SNEC's exhibition.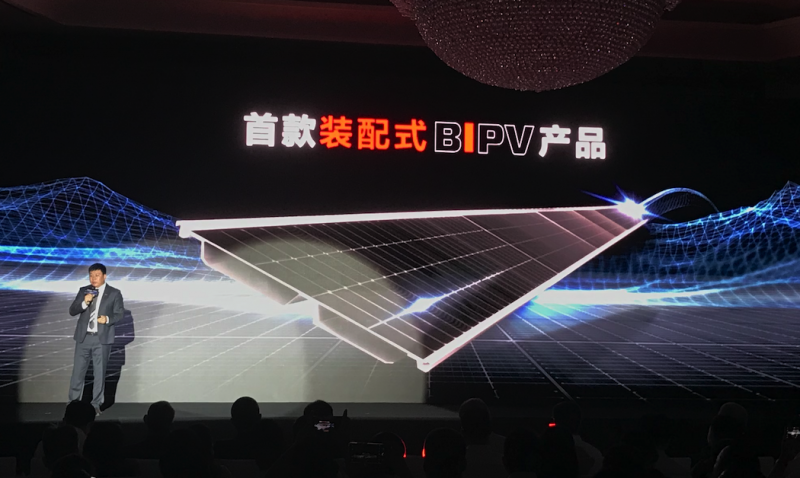 As LONGi's first building integrated photovoltaics product, LONGi Roof inherits the company's stable, reliable, and cutting-edge technical genes, and perfectly combines reliable building materials and high efficiency photovoltaic power generation. LONGi Roof is designed for commercial and industrial rooftops and will aim to redefine the public perception and acceptance of BIPV.
Prior to product development, in order to pinpoint the concerning aspects of currently available BIPV products, LONGi's product design and R&D departments met and engaged in meaningful dialogue with many commercial and industrial rooftop owners. Through targeted development, LONGi Roof was designed to meet and exceed the consumers' needs for a BIPV product that must be safe, sturdy, and offers efficient and reliable generation.
In terms of product performance, LONGi Roof has reached top level safety and reliability standards and offers 9 major advantages:
Improved waterproofing: 360-degree independent seaming, butyl filling sealing, full-length vertical non-overlapping, and dynamic sealing of its sliding system.
Better fire protection: automatic shutoff equipment, 2mm tempered glass on the surface, noncombustible aluminum zinc plated steel plates at the bottom, and is certified Class A noncombustible (GB8624).
Stronger wind resistance: can withstand maximum wind pressure of 0.85KN/㎡, support every 30cm span, and can pass a 2400 Pa wind load test.
Improved heat dissipation: special heat dissipation channels, operating temperature 10 ℃ lower than that of competing products, which can increase power generation by 4% and reduce the energy consumption of indoor air conditioning.
30-year service life: 30-year linear power output warranty, 10-year product warranty.
Integrated BIM: exclusive BIM system where all modules can be traced to the source, realizing refined management.
Larger installed capacity: LONGi Roof's treadable design can increase installed capacity by about 10%.
Antifouling design: double sided frameless components reduce power loss and module power attenuation caused by ash deposition.
LONGi Roofs are not only suitable for newly built commercial and industrial roofs, but can also benefit older rooftops that will be needing renovations. With more than 4 billion square meters of new construction completions each year in china, an installed capacity of 20GW can be achieved with only 5% adopting LONGi Roofs.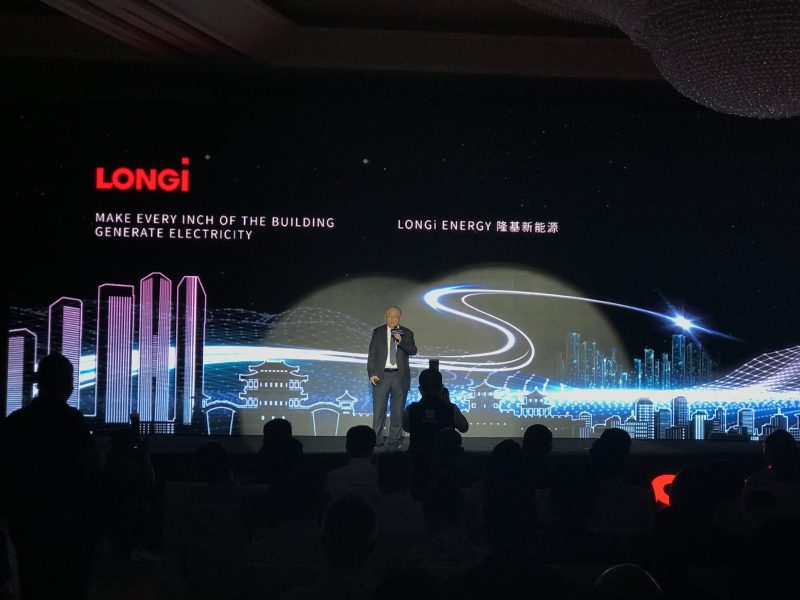 Li Zhenguo President of LONGi, said at the product release conference that PV power generation is the most effective way to solve the current global climate and other energy related problems. The continuous establishment of the whole society's awareness of PV power generation, distributed PV power generation, especially within the commercial and industrial market, will usher in broader development opportunities. Therefore, LONGi's launch of its BIPV product line is a strategic move which broadens its industrial reach, improves its product chain, and encourages industrial upgrading, which is of great significance to not only LONGi but the industry as a whole.