PVTIME - The
latest Q1 PV ModuleTech Bankability
Ranking report reveals LONGi Solar as the only module manufacturer in the
world to receive the AAA-Rated status, the highest grade achievable.
PV ModuleTech Bankability Ranking's rating system is an authoritative analytical tool which assesses the solar industry. By utilizing a reliable, independent, and transparent professional rating system, current PV module manufactures are given various grades based on their investment risk and financing scores. Enterprises' scores are determined through the comprehensive examination of each enterprise's manufacturing capacity and financial health. It is worth nothing that, since entering the AA rating echelon in 2017, LONGi is now the first and only enterprise to obtain the AAA-Rating in the first quarter of 2020.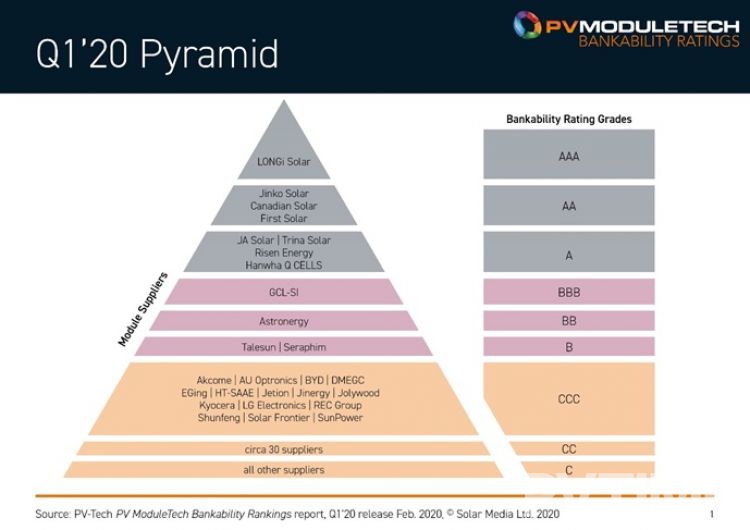 LONGi's
growth trajectory, as seen in the PV
ModuleTech Bankability Ranking report, strongly confirms its world-class
manufacturing capability and technical prowess. The enterprise's rapid growth
in the past few years also demonstrates its stability and overall strength.
In 2019, LONGi topped the Bloomberg New Energy Finance (BNEF) Altman-Z score chart for solar module manufacturers for the first time with a highly increased score while also setting the highest-ever bankability rating in the Bloomberg New Energy Finance (BNEF) Solar Module & Inverter Bankability 2019. Starting off 2020 with its historic breakthrough in the PV ModuleTech Bankability Ranking report, LONGi has now distinguished itself in many of the world's authoritative bankability rating systems.
On its
recent achievement, Senior Vice President of LONGi Solar, She Haifeng
commented, "LONGi has always attached importance to the company's sustainable development
by maintaining stable operations and financial health. In recent years, LONGi
has been able to uphold reliable performance in global cooperatives, responded
to market changes accordingly, and has the ability and confidence to create
long-term value for our customers and partners globally."