PVTIME – On April 13, 2021, China Petroleum & Chemical Corporation (hereinafter referred to as Sinopec) and LONGi Green Energy Technology Co., Ltd. (hereinafter referred to as LONGi) signed a strategic cooperation agreement at the headquarters of Sinopec in Beijing.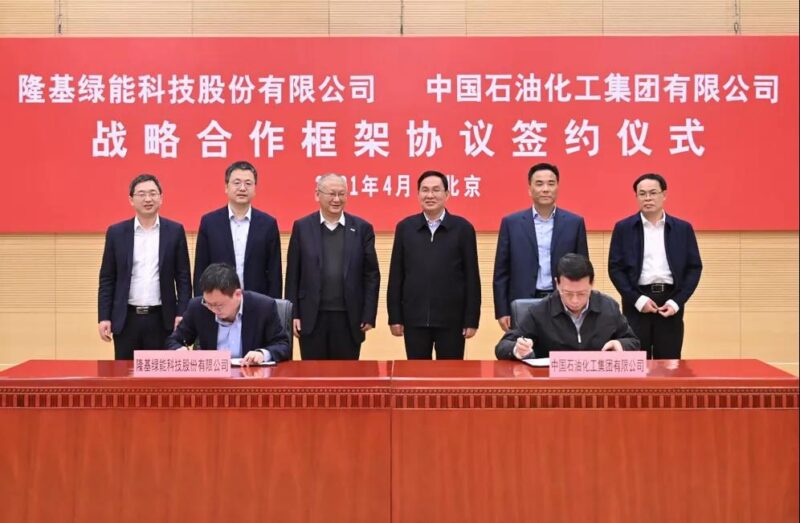 Representatives from LONGi and Sinopec at the signing ceremony (Source: Century New Energy Network)
According to the agreement, the two parties will follow the national goal of achieving carbon peak by 2030 and carbon neutral by 2060 as a guide and cooperate in fields including distributed photovoltaics, solar + green hydrogen, chemical materials, and jointly develop the market and promote clean energy application.
Areas of cooperation include the build-up of a green hydrogen supply chain and using Sinopec's fuel stations network to distribute green hydrogen.
At the signing ceremony, Zhang Yuzhuo, Chairman and Party Secretary of Sinopec, said, "Following the country's lead in working towards carbon neutrality, Sinopec will strive to build a world-leading clean energy chemical company and promote the formation of a resourced based energy industrial structure that is supported by new energy, materials, and economy. In the future, Sinopec will include hydrogen energy into the company's new energy business and build China's largest hydrogen energy company."
Zhang Yuzhuo added, "In the past few years, the cost of photovoltaic power generation has dropped rapidly, making low-cost photovoltaic hydrogen production a reality. As the most professional enterprise in the photovoltaic field, LONGi has accumulated invaluable experience in the field of new energy. Cooperation with LONGi will be mutually beneficial for both parties as well as the development of the new energy industry in all aspects."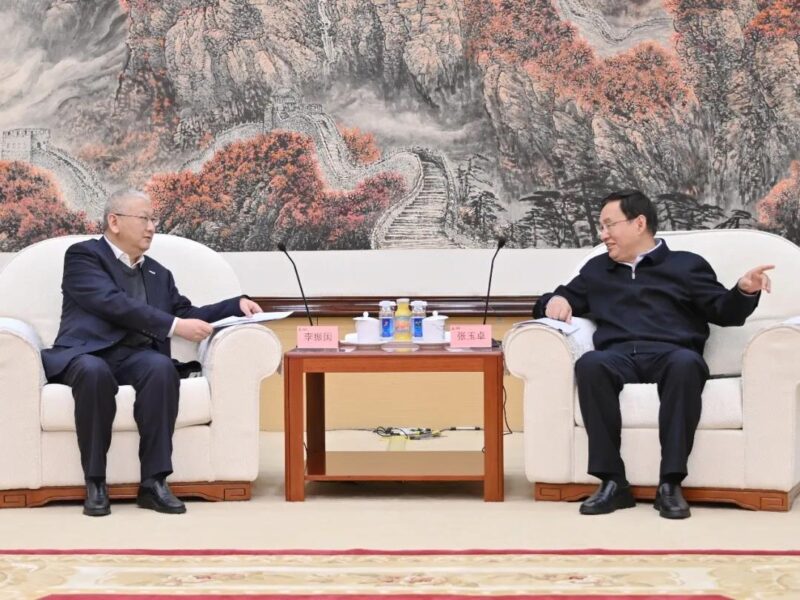 LONGi President Li Zhenguo (left) and Sinopec Chairman Zhang Yuzhuo (right) during the signing ceremony (Source: Century New Energy Network)
On cooperating with Sinopec, LONGi President and Founder, Li Zhenguo, said, "LONGi's development has always benefited from our continuous R & D investment and technological innovation. An effort that has also led to the product transformation and power cost optimization of the photovoltaic industry. In the future, LONGi will continue to be committed to providing leading technologies, products, solutions, and services for energy enterprises. LONGi and Sinopec have conducted several exchanges and discussions on cooperation in the past, and have already established a relationship based on trust. Going forward, LONGi will fully assist Sinopec in its commitment to low-carbon development in the photovoltaic and hydrogen energy fields. "