PVTIME – Latam Future Energy Andean Renewable Summit 2022 kicked off on October 25, continuing to focus on the new potential of the Andean region's energy sector. Sungrow, one of the dedicated sponsors, shared its outlook for Colombia's renewable energy future, and introduced advanced technical innovations for the Andean region, catalyzing the energy transition for this emerging solar market.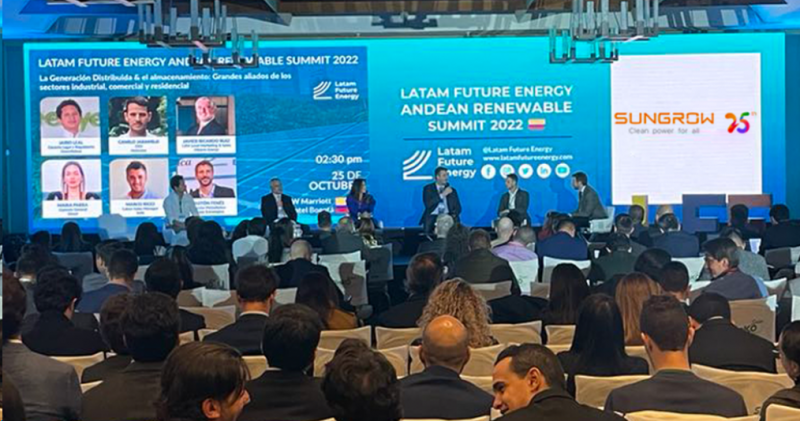 "Colombia is making groundbreaking strides toward the goal of being carbon neutral by 2050. The intensified droughts caused by the climate crisis have made Colombia's hydropower less reliable. Under these circumstances, solar and wind resources create new opportunities to enhance energy security, affordability, and reliability," said Gonzalo Feito, Sungrow's Director of the Andean Region.
In recent years, the Colombian government has enacted several laws, regulations, and commitments intended to significantly increase the use of renewable energy in the energy mix. As a global leading inverter and energy storage supplier, Sungrow presented some of its market-tailored solutions and robust product innovations which shape the solar energy future at the summit.
Tailored to the utility-scale PV plants, Sungrow introduced its latest inverter solutions, the SG350HX and the 1+X Modular Inverter. The SG350HX is a PV Magazine award inverter winner and is highly recognized for its leading position in the 300kW+ string inverter trend. The inverter is in full compliance with large-format PV modules, enabling higher yields for power plants.
The 1+X Modular Inverter is expected to lead the next generation of PV plant development. With the concept of modularization fully adopted, the 1+X Modular Inverter redefines both the "string" and "central" inverter with its modular design — the product features a 1.1 MW single unit as the minimum, and the maximum capacity can be expanded to 8.8 MW by combining eight units. Customers can choose from 1.1 MW to 8.8 MW based on their specific project requirements. In addition, operation and maintenance (O&M) duration and costs are significantly decreased due to this modular design.
Feito also stressed that both the SG350HX and 1+X Modular Inverter are equipped with strongly enhanced grid support functions and can operate stably in weak grid conditions. These functions are necessary as the Colombian power grid is weaker, especially when a growing number of renewable energy is added to the energy mix, increasing grid intermittence and volatility.
Due to its growth prospects, Colombia is one of the most attractive renewable energy markets. Sungrow is making even more efforts in 2022 and obtaining a series of Colombian projects. Sungrow not only serves Colombia, but the Company also serves more Latin American countries with its professional sales, technical support, and post-sales local team. These dedications contribute to the market-leading position of the Company with 9 GW shipments of its solar inverter solutions in Latin America.