-The price of silicon materials continues to rise, breaking through the 111,000 yuan/MT mark
-LONGi raises wafer price twice in one month
-Tongwei's diamond wire price remains unchanged while all other products rose by 0.05 yuan/piece
PVTIME – The consensus of the industry is that the supply and demand balance of silicon materials will be tight throughout 2021. At the same time, estimates for global new installed capacity in 2021 have been largely optimistic. IHS Markit raised its original estimate of 158GW to 183GW while Bloomberg predicted growth of between 150-194GW. Wang Bohua, Vice Chairman and Secretary-General of the China Photovoltaic Industry Association, believes that it may be between 150-170GW. Based on its own prediction of 165GW, CITIC Securities has calculated the corresponding demand for silicon materials to be 580,000 MT for 2021.
The price of silicon materials rises by 32% in two months and breaks the 111,000 yuan/MT mark
Previously, the Silicon Industry Branch of China Nonferrous Metals Industry Association(CMRA) had originally forecasted an oversupply in the silicon materials market for the first half of 2021 with demand reaching the low point in the second quarter. Furthermore, the CMRA forecasted the market to be in a short supply in the second half of 2021 where prices may rise rapidly.
Now, given the current market situation, the CMRA predicts that the price of polysilicon materials will continue to fluctuate due to the tight supply and demand balance as it estimates the global polysilicon supply limit for 2021 to be between 570,000 to 580,000MT.
According to related data published by PVInfoLink, the price of polysilicon – prime for mono rose by 32% in 2 months from 85,000 yuan/MT on December 31 of 2020 to 110,000 yuan/MT on March 3 of 2020. Currently, the price of polysilicon – prime for mono is 122,000 yuan/MT, which is another 5.4% increase from just last week.
The increase in silicon materials prices has also driven up the prices of silicon wafers and cells along the supply chain.
On February 26, LONGi's wafer price trend announcement for March reflected the market condition. The quotation of G1 and M6 (170 μ m) monocrystalline silicon wafers rose from 3.25 yuan/piece and 3.35 yuan/piece to 3.55 yuan/piece and 3.65 yuan/piece respectively, each of which rose by 0.3 yuan or 9%. The price of M10 (175 μ m) monocrystalline silicon wafers rose from 4.05 yuan/piece to 4.44 yuan/piece, which was an increase of 0.39 yuan/piece or 9.6%.
Subsequently, cell manufacturing giant Tongwei's cell prices for March also changed accordingly. The unit price of mono/bifacial 158.75mm monocrystalline PERC cells was 0.96 yuan/watt, up 5.49% compared with January 26. The price of mono/bifacial 166mm monocrystalline PERC cells was 1.00 yuan/watt, up 5.26%. The price of mono/bifacial 210mm of monocrystalline PERC cells was 1.04 yuan/watt, up 5.05%. The price of the 157mm polycrystalline cell was the only to remain unchanged at 0.62 yuan/watt.
Price increases along the supply chain have directly affected the bidding on recent projects. Referencing recent Chinese module procurement data, the lowest among the 11 bids for CNNC Rich Energy Corporation Limited's (hereinafter referred to as "CNNCNE") tender announced on January 25, 2021, was 1.48 yuan/W. The winning bid for Guangzhou Development's 1.08GW tender announced on March 4, 2021, was 1.52 yuan/W, which a 0.04 yuan/W increase compared to CNNCNE's winning bid.  Affected by the surge in prices, bidding for China Huadian Group's 7GW centralized procurement which began on March 2, 2021, saw significant jumps with bids ranging from 1.609 to 1.779 yuan/W.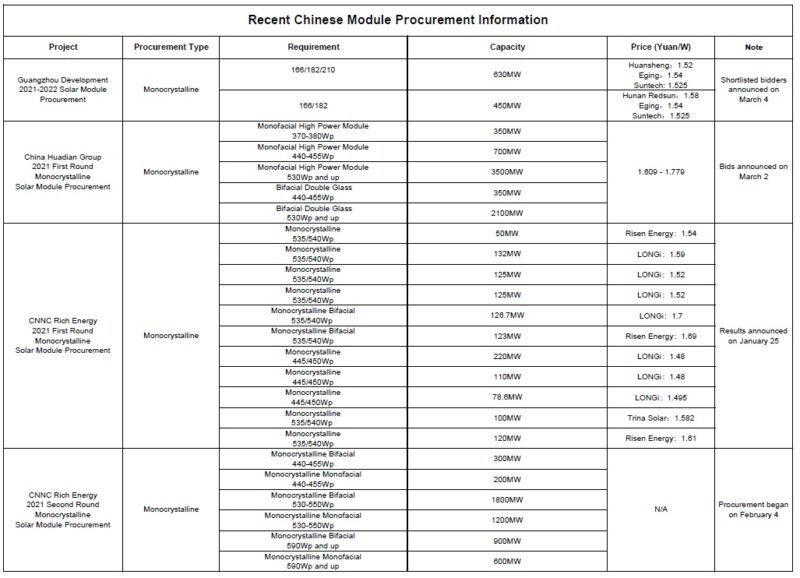 Recent Chinese module procurement information compiled by PVTIME
158.75mm modules fading out as large modules account for 77% submitted bids for 15GW of module tenders in recent months
Wang Bohua, Vice Chairman and Secretary-General of the China Photovoltaic Industry Association, had stated that large size and high-power products will rapidly enter mass production in 2021 and 182mm and 210mm products would occupy half of the market. The results of recent module procurements have confirmed this view.
Information from the four tenders which combine for a total capacity of 14.38GW show 11GW of which are seeking modules of 182mm/210mm sizes, accounting for approximately 76.8% (Guangzhou Development's 1.08GW tenders are not included in this calculation due to the requirements of modules shall not exceed 15A).
For China Huadian Group's 7GW procurement, the bidding capacity of large size modules is 5.6GW, accounting for 80%.
Among CNNCNE's 11 bids received for its first round procurement, 8 of which were 182mm or up cumulating 901.7MW or 69.4%. The remaining 3 bids received were 166mm packages totaling 408.6MW or 30.6%.
CNNCNE's 5GW second round procurement seeks 4.5GW in 182mm and 210mm modules, accounting for 90% of the bidding capacity.
As silicon material prices continue to rise, wafer production is slowed due to reduced operating rates, and module makers bear great pressure. What will happen to the competitiveness of first-tier module makers once their long-term silicon purchasing agreements end? Will second and third-tier module producers sacrifice profits to seize market share? Who will survive and who will thrive?