PVTIME – At 9:30 am today, Jinko Power Technology became the first company to sound the gong at the Shanghai Stock Exchange since the coronavirus outbreak. Jinko Power Technology Chairman, Li Xiande, and four other guests rang the gong together announcing China's largest private power station operator's official listing on the Main Board of the Shanghai Stock Exchange.
Jinko Power Technology raised 2.5 billion yuan through the issuing of 594.5922 million shares at 4.37 yuan/share. The funds will be used to supplement the construction of distributed rooftop photovoltaic power generation projects, the development of "Front Runner" projects, and the repayment of bank loans.
According to the recently announced PVBL2019 PV Brand Rankings, Jinko Power is fourth among all power station investors and second among all private enterprises. Its sister company JinkoSolar ranks first among module manufacturers and is one of the few leaders in terms of industrial integration.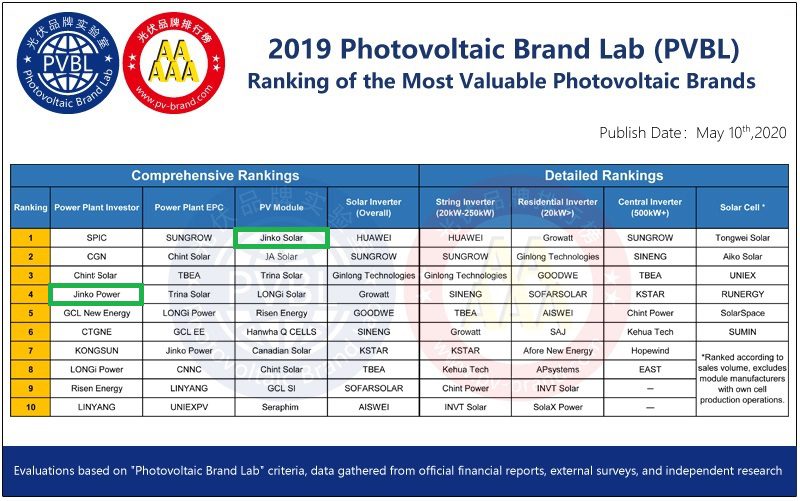 Total operating income generated from Jinko Power's PV power station operations and EPC business from 2016-2018 and the first 3 quarters of 2019 were 1.858 billion yuan, 4.053 billion yuan, 7.006 billion yuan, and 3.437 billion yuan respectively. From 2016-2018, Jinko Power's compound growth rate was 95%. At the same time, for the same period, net income attributable to shareholders of the parent company were 97 million yuan, 672 million yuan, 902 million yuan, and 498 million yuan, respectively. With a compound growth rate of 204.9% from 2016-2018, the profit growth momentum is quite evident.