PVTIME – On October 28, Jinjing Group subsidiary, Ningxia Jinjing Technology Co., Ltd. and Shizuishan City officially signed the cooperation contract for a 2.5 billion yuan photovoltaic glass production project. Upon completion, the project is expected to produce an annual output value of 4 billion yuan and create 1200 jobs for the region. Construction of the project began immediately after the signing.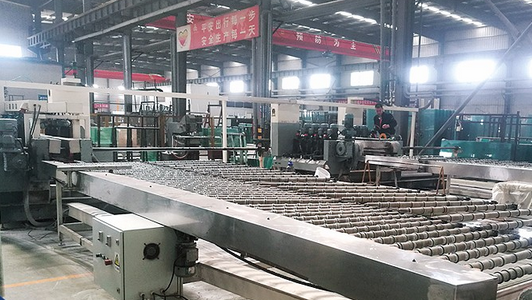 Jinjing Group's solar glass production line. (Source: Jinjing Group)
According to reports, the construction of the project will be completed in three phases. 400 million yuan will be invested into Phase I for the construction of a 1 kiln 600ton/day production line. Phase II will utilize 1.38 billion yuan to build two 1 kiln, 1000ton/day production lines. Phase III will utilize the remaining 720 million yuan to transform an existing floating ultra clear glass production line into a PV glass production line capable of producing 800ton/day. The project will have a total PV glass production capacity of 3400ton/day and an annual output of 198 million square meters.
Established in 1904, Jinjing (Group) Co., Ltd. is located in Boshan, Shandong, the birthplace of China's glass industry. Through 100 plus years of continuous exploration and innovation, Jinjing Group has become a large scaled corporation dedicated to the development, production, fabrication of glass, soda ash, and their derivatives. Moreover, Jinjing Group is also a manufacturer of new solar energy and energy-saving materials.