PVTIME – JA Solar, a leading manufacturer of high performance photovoltaic products, unveiled its 525W+ ultra-high efficiency DEEPBLUE 3.0 solar module during the Smart Empowerment 2020 PV Technology Cloud Conference on May 18, 2020. Previously, on May 11, JA Solar announced that the power output of its DEEPBLUE 3.0 ultra-high module 72 cell version under standard test conditions exceeded 525W, setting a new industry record. Today, JA Solar announced the technical details and features of the industry's first ultra-high power module with 180mm silicon cell.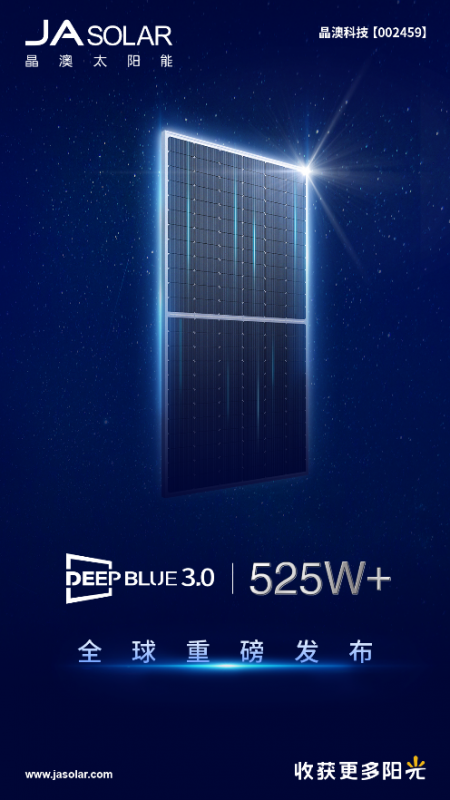 The DEEPBLUE 3.0 module utilizes 180mm large size solar cells, and combines Ultra-T glass, innovative 9busbar, and PERCIUM+ technologies to achieve its ultra-high conversion efficiency of 21%. In addition, the elimination of cell gaps on the DEEPBLUE 3.0 raises the module's conversion efficiency by 0.4%, while the use of lightweight framing brings its weight down 10% to 28.5kg. It is reported that JA Solar is the first photovoltaic enterprise in the world to fully adopt gallium doped silicon wafers. The attenuation of its module products in the first year is not more than 2%, and the linear attenuation of single glass and double glass is no more than 0.55% and 0.45%.
The 525W+ DEEPBLUE 3.0 is designed to meet the consumers' demand and desire for a lower levelized cost of electricity (LCOE) and will maximized the economic value of renewable energy generating PV systems. Compared to current mainstream 400W modules, the adoption of 525W+ modules can provide a 7-9% decrease in LCOE to the consumer, resulting in higher profitability. With its high reliability, efficiency, and power generation, the DEEPBLUE3.0 is set to become a mainstream choice for utility project developers.
Mass production of the cell DEEPBLUE 3.0 is slated to begin in Q3 of 2020 with an anticipated production capacity of 14GW for the year.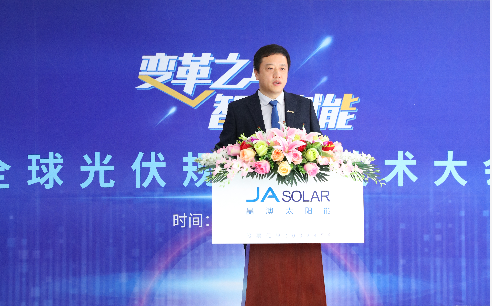 Mr. Tang Kun, Chief of JA Solar's Technical Product Department, commented, "at JA Solar, we are highly focused on technological innovation, and committed to providing high-efficiency and reliable photovoltaic products for our global customers. As China's PV industry enters the age of grid parity and foreign markets' electricity price competition intensifies, consumers from around the globe are in urgent need of technical solutions that can reduce the cost of electricity. At this critical moment, we believe the mass production of 180mm products and the maturation of its manufacturing processes will effectively reduce the cost of electricity for consumers in the short term."