PVTIME – In May 2020, JA Solar launched its new generation product, DeepBlue 3.0, which is scheduled for mass production in the third quarter of 2020 with a planned production capacity of 14GW. With its continuous improvement of product technology, the company recently has successfully pushed the power output of this new product to 545W.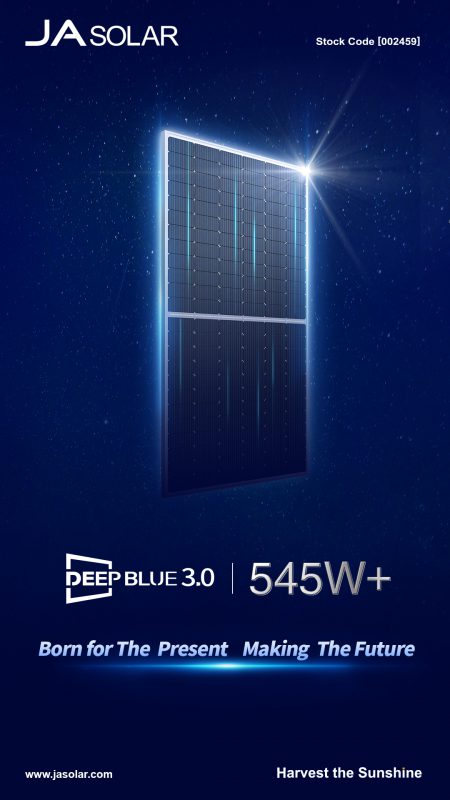 The DeepBlue 3.0 module utilizes JA Solar's new PERCIUM PLUS cell technology, and Ga-doped M10 (182mm * 182mm) silicon wafers, which has been officially established as the standard large-area wafer size by seven China-based top PV manufacturers. Also. the DeepBlue 3.0 adopted 11 busbar and half-cell design. All these enable the power output of mass-produced 72-cell type DeepBlue 3.0 module to reach 545W. The upgraded module will reduce manufacturing costs throughout the entire solar industry supply chain. Particularly, the M10 based high power module will offer end users remarkable value and provide our customers with improved competitive advantages.
The DeepBlue 3.0 features the M10 large-area wafer based PERCIUM PLUS cells platform, with improved back-printing technology and other upgrading packages. The cell efficiency has exceeded 23.0% and the related module efficiency is above 21.0%. To make the product more competitive, customized products combined with high-energy-density technologies can further improve the module efficiency to 21.4%. In addition, the design of the module enables easy installation. Its patented sliding slot-frame reduces the weight of the frame by about 10%, making the installation more convenient and versatile, while enhancing the waterproof ability and mechanical load performance of the product. Compared with 400W modules, the DeepBlue 3.0 will reduce LCOE by about 7%-9% for customers (this value may vary based on the conditions of the project).
Jin Baofang, Chairman and CEO of JA Solar, commented, "Since its inception, JA Solar has continuously developed and marketed the application of high-efficiency cell and module technologies, enabling its high-performance products to secure customer recognition across the world. Moving forward, we will continue to focus on technological innovation and strive to provide advanced photovoltaic products for our global customers."