PVTIME – Impax Asset Management ("Impax") has announced that a renewable energy infrastructure fund ("the Fund") managed by Impax has completed the sale of the Vlagtwedde solar farm in the Netherlands to German pension fund Versicherungskammer Group, under funds managed by Encavis Asset Management for an undisclosed amount.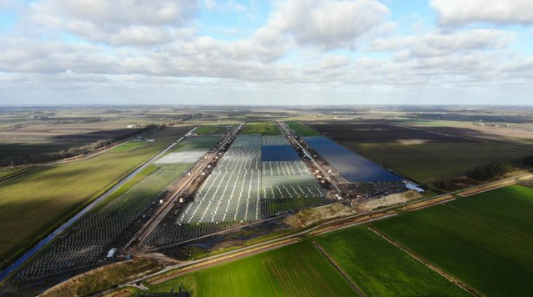 Vlagtwedde solar farm (Source: Solarcentury)
Project Highlights
Largest operational solar farm in the Netherlands: The Fund acquired the Vlagtwedde solar farm, located in the municipality of Westerwolde, Netherlands, in August 2019 from Dutch developer Powerfield, with a construction contract from UK-based contractor SolarCentury integrated into the transaction. The 110 Megawatt peak (MWp) solar farm, which was constructed in c. 12 months, is made up of 350,000 panels and covers an area of 100 hectares(the equivalent to 130 football pitches) making it the largest operational solar farm in the Netherlands to date. The solar farm is expected to generate power for approximately 30,000 households.
Environmental benefit: TheVlagtwedde solar farm produces clean, renewable energy thereby reducing energy-related greenhouse gas emissions and contributing to the Dutch energy transition. The site now provides around 40,000 tonnes of CO2 abatement each year and contributes towards the Westerwolde municipality's goal of becoming energy neutral by 2050.
Community Engagement: Impax engaged with the local community throughout the development and construction phases. Initiatives introduced include: cultivation of 25 hectares of blueberries, wildflower and tree plantation, erection of hives to support bee population, solar panels installed at the local village hall and an annual contribution payment to the local community. Local jobs have been created during construction and will be created throughout the whole cycle of the project.
Commenting on the sale, Hector Boyce, Associate Director within the Impax Private Equity/Infrastructure Transaction team, commented: "As long-term specialist investors in the renewable energy sector, t his project is part of our investment philosophy to contribute towards the transition to a zero-carbon economy in Europe. From the outset, the project has been developed in close cooperation with local parties with whom we have had a great experience. Delivering the project on time and within budget despite the global pandemic is a testament to our team's strong industrial skill-set. We look forward to building on our platform in the Netherlands and making further investments in this space."
Isabella Pfaller, Chief Financial Officer at Versicherungskammer, added: "We are very pleased about the acquisition of this large solar park in the Netherlands and the resulting further regional diversification of our fund portfolio. For us, investing also means taking responsibility towards society and the environment."