PVTIME – As a trailblazer for the global solar PV industry and an advocate for intelligent photovoltaic power plants, Huawei has fueled the growth of the PV industry and pushed intelligent string solutions into the mainstream since first introducing its FusionSolar 1.0 smart string inverter in 2014.
This year, Huawei continued to push the envelope and unveiled the Huawei FusionSolar All-scenario PV & Storage Solution at the 2021 SNEC held in Shanghai earlier this month.
Encompassing Smart PV Generator FusionSolar 8.0, Green Residential Power 2.0, Green C&I Power 1.0, and Off-grid (fuel removal) Power Supply Solutions + Energy Cloud, Huawei is aiming to accelerate the shift to zero-carbon generation and make PV the main energy source with this "4+1" scenario.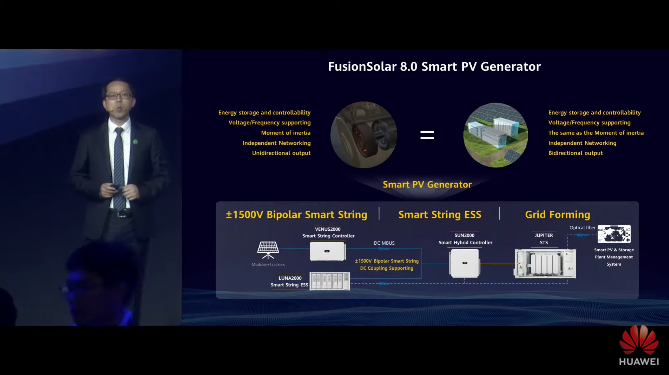 Director of Huawei Technologies, Chen Guoguang, presenting FusionSolar 8.0 Smart PV Generator
Huawei subverted the traditional architecture and created the future-oriented FusionSolar 8.0 smart photovoltaic generator which is comprised of ±1500V bipolar smart string, smart string energy storage with leading DC-coupled architecture, and Huawei's Grid Forming smart photovoltaic storage collaborative control algorithm.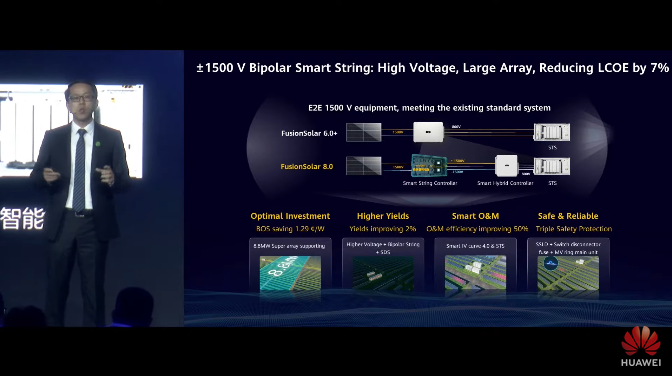 The world's first ±1500V bipolar intelligent string pushes existing technological boundaries and supports up to 3000V, large sub-arrays up to 8.8MW, and reduces LCOE by 7%. Moreover, the bipolar intelligent string reduces BOS cost by 0.1 yuan/W, ups efficient power generation by 2%, and improves intelligent operation and maintenance efficiency by 50%.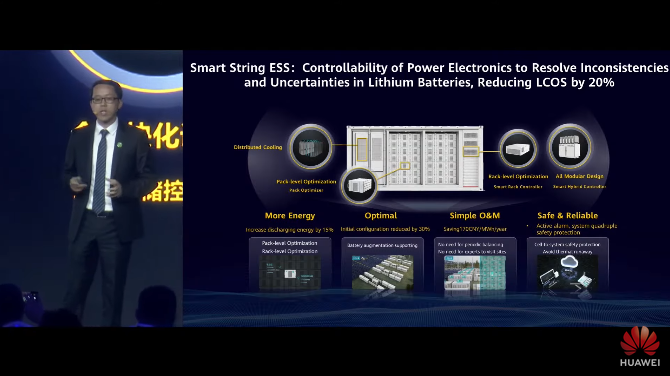 In the past, it used to be that one centralized inverter unit managed about 200 strings, active management was thus not possible. The key feature of the String ESS is its precision in allowing one control unit to manage two strings, greatly increasing the accuracy. Smart String ESS uses the controllability of power electronics to solve the inconsistency and uncertainty of lithium batteries, increasing discharging energy by 15%. Through its distributed temperature control, fully modular design, and other innovative technologies, the Smart String ESS reduces LCOS by 20%, lessens initial configuration by 30%, simplifies operation and maintenance by providing a reduction of 170 yuan/MWh/year, and supports the mixed-use of new and old batteries.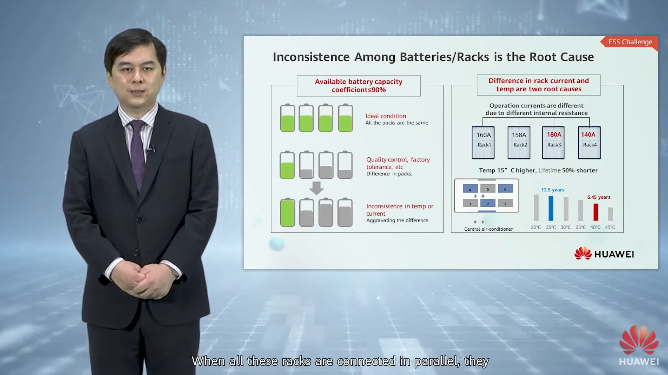 General Manager of Huawei Smart PV Global Solution Sales, Gu Xin, presenting during Huawei's Global Virtual Summit
During Huawei's SNEC Global Virtual Summit, Mr. Gu Xin, General Manager of Huawei Smart PV Global Solution Sales, summarized that grid requirements and cost reduction is what promotes the rapid development of energy storage and that the main challenges include low efficiency, short lifetime, difficult operation and maintenance, and safety risks. In addition, Huawei found that inconsistency in batteries and/or racks was the root cause for this. The Huawei Smart String Storage solution incorporates 3 innovative technologies in order to combat this and provide lower investment, 50% more battery life, easy operation and maintenance, and a high safety profile with fire risk being reduced by more than 50%.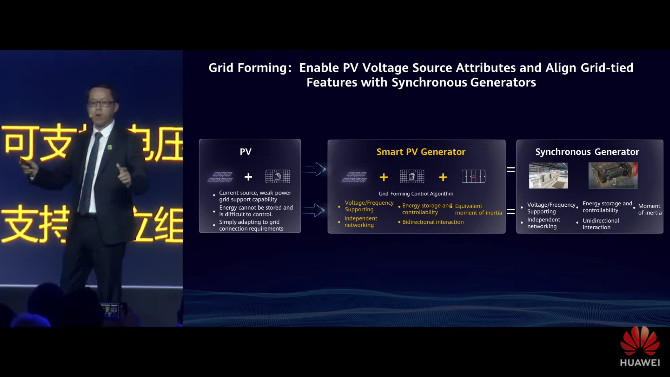 Huawei's Grid Forming intelligent PV + storage collaborative control algorithm is an effective mechanism that is able to control PV voltage source attributes and align grid-tied features with synchronous generators to allow solar power to be stored and controllable.
Grid Forming proactively controls frequency and voltage through voltage/frequency supporting, independent networking, energy storage and controllability, an equivalent moment of inertia, and bidirectional interaction.
Working in tandem, the combination of these three main features enables more stable and efficient photovoltaic power generation at a reduced price, makes the construction more efficient, and continuously contributes to photovoltaics becoming the main energy source of the future.
While technology advances and changes rapidly, the solar inverter business is evolving as well. Artificial intelligence (AI) is all set to capture the inverter market in the near future and big data analytics are bound to make string inverters more intelligent and remote monitoring much easier.