PVTIME – Hongkong Land announced today the signing of HK$6.85 billion in sustainability-linked loans, further building on its commitment to sustainable financing following the announcement in August last year of its first sustainability-linked loan of HK$1 billion with DBS.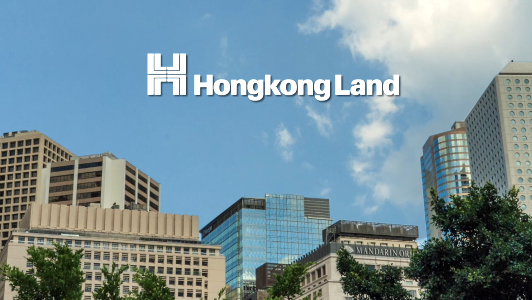 Five sustainability-linked revolving credit facilities totalling HK$6.85 billion have been signed since November 2020. Two four-year loan facilities with DBS (HK$1.5 billion) and MUFG (HK$900 million), and three five-year loan facilities with BOCHK (HK$2.7 billion), HSBC (HK$1 billion) and OCBC Bank (HK$750 million).
Hongkong Land will be eligible to receive a tiered discount on the interest rate of the loans if it achieves ESG targets agreed with the respective banks. These targets include demonstrating continuous improvements in greenhouse gas emissions, electricity consumption, food waste, and solar energy generation, whilst maintaining green building certifications for Hongkong Land's portfolio in the Central Business District of Hong Kong.
The proceeds of the loans will be used for general working capital and corporate funding purposes, and to further fund ongoing green building initiatives.
Mr Robert Wong, Chief Executive of Hongkong Land, said, "These sustainability-linked loans further demonstrate the integration of sustainability in all aspects of our business, and our desire to continue to support the development of sustainable capital markets in the region."
Mr Wang Bing, Deputy Chief Executive of BOCHK, said, "BOCHK is delighted to offer this sustainability-linked loan to Hongkong Land. Sustainability is a key initiative under the Bank's core strategic goals. As environment, social and governance is integrated to the Bank's policies, we encourage and support corporate customers to establish sustainable business models, by providing them with diversified sustainable financial services including deposits, loans, bonds, as well as acting as adviser."
Mr Alex Cheung, Managing Director and Head of Institutional Banking Group at DBS Hong Kong, said, "As a purpose-driven bank, DBS remains committed to supporting our customers in accelerating their sustainability journey to generate long-term value for the community. We are proud to partner with Hongkong Land again in supporting their sustainability ambitions, as they continue on their journey to make positive social and environmental impact."
Mr Jonathan Drew, Managing Director, ESG Solutions at HSBC, said, "It is encouraging to see Hongkong Land set out a diverse and ambitious set of targets tying its funding strategy to its sustainability commitments. Bold action from such a prestigious and well-known Hong Kong institution should encourage more organisations across the city to follow suit. Working with clients, we are proud to support Hong Kong's transition to a low carbon economy by using the financial system to incentivise more sustainable business growth."
Mr Tony Lee, Managing Director and Head of Global Corporate Banking, East Asia of MUFG Bank said, "MUFG is an active and leading market participant in ESG-linked financing and is committed to supporting our clients in making a difference. We are proud to be a close partner of Hongkong Land in its sustainability journey, contributing to the ongoing development of greener capital markets in the region."
Mr Tan Wing Ming, Regional General Manager for North East Asia of OCBC Bank, said, "Over the last few years, sustainability has taken on a greater importance for many of our customers and sustainable finance has become a key part of their sustainability strategy. The commitment from our long-time customer Hongkong Land – which has multiple sustainable financing transactions under its belt – is proof of that. We are pleased to provide them with our support as we continue towards our goal of building a S$25 billion sustainable finance portfolio by 2025."