Hanergy Thin Film Power Group (00566.HK) today announced that it has successfully finished its first HanTile project in Groningen province, the Netherlands.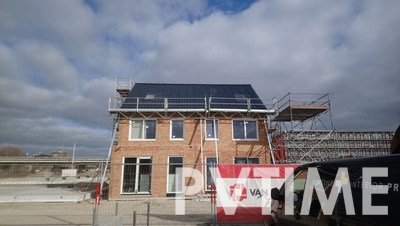 Continuing the momentum on its sustainability project "building for the future", the clean energy giant partnered with Van Wijnen Gorredijk, a renowned local construction company in Netherlands to apply 46 units of the company's innovative BIPV product-double glass HanTile, onto two houses in Suikerunie Sugar factory.
Further on the science of the project, Hanergy has applied a total of 12.5kw of HanTile, which is used for 2 houses, and can generate 9800kwh electricity every year.
Mr. Li Ming, CEO of Hanergy Netherlands said, "We are delighted over the successful completion of our first HanTile project in the Netherlands, and we look forward to working on more significant projects with Van Wijnen Gorredijk. While, this is only our first pilot project in the Netherlands, we're confident that our innovative BIPV products, HanTile will surely do well in the Netherlands' market."
Thanks to Hanergy's HanTile, Van Wijnen Groningen project's energy consumption is very low, and the curved HanTile makes the brick buildings look more attractive. Making use of Hanergy's advanced installation technology, the project was finished within 1 week, and has received pronounced credits from the clients.
First launched in 2017, HanTile perfectly combines one of the world's most efficient solar chips and the aesthetics, while bringing a greener life to the traditional buildings. In 2018, with the debut of the single glass layer HanTile, Hanergy further lightened the weight and extended the product application scenarios. Earlier in July 2018, the company had completed its first HanTile project in Stockhom, Europe, which is a 36kw high-end villa rooftop project.
In the Netherlands, Hanergy's thin-film solar technology and products have been used in varied projects, for instance in AFAS stadium, the home stadium of Dutch Eredivisie (top league) football club AZ, 1725 pieces of thin-film modules produced by Hanergy's subsidiary MiaSolé have been installed on the roof, which helps the football club engage the sustainability.
Hanergy's solar cells set the world record for conversion efficiency several times, with the newest one being 29.1%. It launched and upgraded handful of consumer products in 2018, including Humbrella, solar-powered umbrella; SolarTank, solar backpack; HanPower, solar power bank, retaining its leading position in mobile energy sector. Subsequently, with the debut of HanTile in April and HanWall in September, Hanergy upped-the-ante in global building-integrated PV segment.
Hanergy recently grabbed the first rank for itself in solar energy sector, while taking up an overall 78th rank (Up from 91st rank last year) among China's TOP500 Most Valuable Listed Companies released by 21 Data News Laboratories. Lately, the company inked strategic agreements with partners from Australia, Japan, Vietnam, Switzerland, Paraguay, Chile, Oman, Egypt, and so on, marking its entry in the global market. Collaborating with Bollore Group, Boeing Group, TAM and China's local express delivery companies, Hanergy reached further down for a wider application of thin-film solar power technologies. Its solar modules was chosen by NASA for international space station testing, to evaluate Alta's technology for future NASA low-Earth orbit missions, including powering CubeSats.
Constant breakthroughs in the sector have led to steady surge in Hanergy's market value. Further, Hanergy's "mobile energy +" model is well in place to promote in-depth integrations of mobile energy and traditional industries, and is to result in huge market demand, new business models and potential innovation.