PVTIME – Growatt has been awarded Top Brand PV Seal 2020 by EuPD Research
for its leading position in Australia! Growatt
is dedicated to continuous improvement in product reliability and customer
satisfaction. Growatt has become very popular
among installers in the region because of its advanced PV technologies,
reliable products and professional service.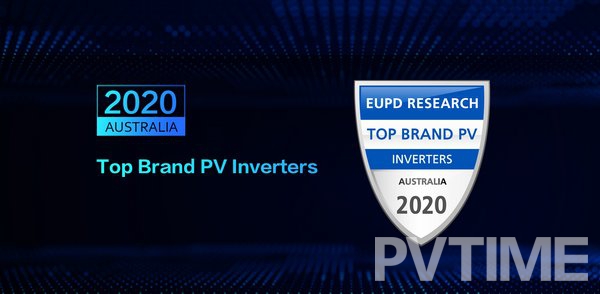 About Top Brand PV Seal
By reaching out to installers directly in Australia, EuPD Research is able to gather valuable
first-hand information of the technical aspects and the image of the inverter
brands. Additionally, based on years of research, EuPD Research has developed
its advanced evaluation model that emphasizes the aspects of successful brand
management of inverter companies. The Top Brand PV Seal awards recognize the
leading position of Growatt in Australia in
terms of reliability, market penetration, brand awareness, satisfaction etc.
Growatt in Australia
In 2010, the first year of its foundation, Growatt
established its office in Australia. In 2011,
the company became the largest Chinese exporter of inverters to Australian
market with a market share of 23%. Up until 2018, over two million rooftop
systems had been installed in Australia, and
Growatt had contributed about 200,000 inverter solutions to Australia's rooftop sector. That means one out of ten
rooftop systems in Australia were using Growatt
inverters.
The company has also been introducing latest advanced PV
solutions in the country. Last year, it launched the most up-to-date battery
ready inverter MIN 2500-6000TL-XH. The inverter works with low voltage battery
and has a battery interface which can be easily extended later to a storage
system. This storage ready PV solution will help reduce the cost for customers
to turn their rooftop solar plant into a PV storage system in the future.