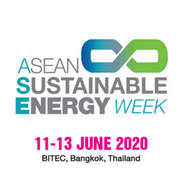 The 16th South East Asia's Renewable Energy Technology Exhibition & Conference
Ⅰ. Introduction:
The show highlights Renewable Energy sources and the latest technology in this area. Wind & Solar Power are among the many systems & programs featured along with Thermal and Waste-to-energy, Hydo-powered programs, Bio-mass and other green technology also covered. Renewable Energy & Energy Efficiency Clinics staffed by experts are conducted at the show.
The ASEAN region presents huge opportunities for the use of Renewable Energy and member states are increasingly focusing on Renewable programs in order to reduce their dependence on fossil fuels. Renewable Energy systems and fuels help ensure a more sustainable and environmentally friendly power supply. They are also far more economical. Today, countries are doing their best to come up with individual renewable energy policies.
Ⅱ. Exhibit Scope:
● BioFuel
● Biogas
● Biomass
● Solar PV: Manufacturers of modules and inverters, PV cells, batteries and electronic meters
● Solar Thermal
● Waste to Energy (as a solution)
● Wind and Hydropower