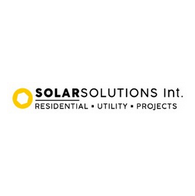 Solar Solutions Int. 2020
Ⅰ. Introduction:
The share of solar energy in the energy supply is growing at lightning speed. Solar Solutions International is growing along, 50% growth in exhibition space and from two to three visitor days. Solar Solutions Int. is now the second largest solar trade fair in Europe. For three days you will find an international range of innovative and sustainable technologies from more than 250 manufacturers and suppliers. Register for Solar Solutions Int. 2019 and be informed by the leading Dutch and international companies at the largest knowledge, network and trade event for solar energy in North West Europe.
Do not miss out and register now for Solar Solutions Int. and Green Heating on March 19, 20, and 21 in Expo Haarlemmermeer, The Netherlands.