PVTIME - The China Photovoltaic Industry Association (CPIA) held its "2022 Photovoltaic Development Review and Outlook in 2023 Conference" in Beijing on 16 February 2023. At the conference, Wang Bohua, Honorary Chairman of CPIA, presented a detailed review of the photovoltaic industry in 2022 and gave CPIA's outlook on the development situation of the photovoltaic industry in 2023.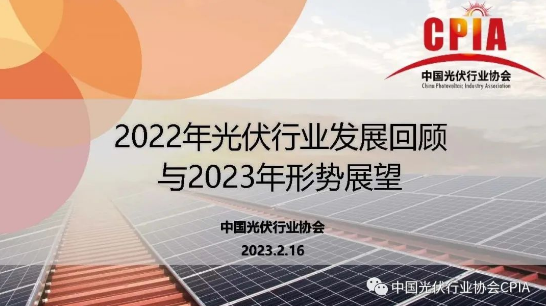 Reviewing development of China's PV industry 2022
Mr. Wang Bohua first reviewed the brilliant achievements of China's PV industry in 2022, highlighting that in terms of trade, technology and industry performance, Chinese PV enterprises had made all-round progress both in the domestic market and overseas, while the global PV market grew rapidly in 2022.
Mr. Wang Bohua introduced that in 2022, the production volume of polysilicon, silicon wafers, solar cells and modules in China increased compared to 2021. The production volume of polysilicon was 827,000 MT, an increase of 63.4% year on year; the production volume of wafer was 357GW, while that of solar cell was 318GW, an increase of 60.7% year on year. And the production volume of solar modules was 288.7GW, up 58.8% year on year.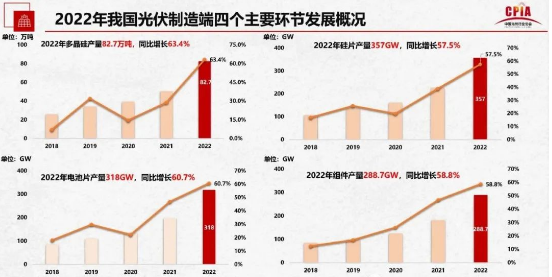 The cumulative installed capacity of new photovoltaic power plants in 2022 was 87.41GW, including 51.11GW of distributed PV projects, up 74% year on year, and 36.3GW of centralised plants, up 41.8% year on year.
In addition, the total export value of PV products will exceed US$50 billion for the first time in 2022. Among them, the export values of solar modules, wafers and cells were US$42.361 billion, US$5.074 billion and US$0.815 billion, respectively.
Meanwhile, there are many challenges for the development of China's PV industry in 2022, which may bring uncertainties to the industry this year, Mr. Wang Bohua pointed out.
1 The cost of energy storage and support system has increased and will continue to increase.
2 The adjustment of peak and off-peak electricity prices in some provinces may affect commercial and industrial electricity consumption.
3 Some policies related to the support system in the PV industry need to be improved.
4 High demand for land to meet the rapid development of PV power plants.
5 The electricity trading system for solar power generation needs to be improved.
6 The development of Chinese PV companies in the overseas market may face some problems caused by unfriendly trade policies.
7 China's PV manufacturing industry may be negatively affected by the vigorous development of overseas manufacturing plants.
Outlook for 2023:
China has strong market potential for the PV industry. The expansion of PV production projects will continue and investment will be diversified. In addition, the large-size silicon wafers and n-type cell technology will be increased to grow rapidly for the market, said Mr Wang Bohua. It is estimated that China's installed PV capacity will be 95GW-120GW by 2023, while the global installed capacity will be 280GW-330GW.
Chinese PV enterprises are encouraged to jointly lead a healthy industrial development. In particular, the rising prices of PV products are expected to be stable to secure the supply chain for the whole industry, as it recently showed a downward trend with reasonable control.
China's solar industry sees a better future, while uncertain risks such as natural disasters and policy changes cannot be ignored. China's PV industry has been building and optimising its industry supply chain over the years and will continue to do so, Wang Bohua stressed.