PVTIME – On December 17, the investment agreement signing ceremony for Phase I of CECEP Solar Energy Technology's 20GW high-efficiency solar cell manufacturing base was held in Yangzhou City, signaling the official start of construction.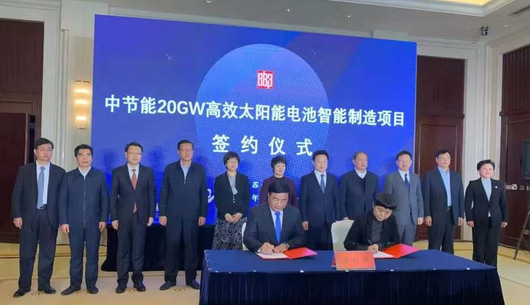 The subsidiary that will be overseeing the construction and operation of the project, CECEP Solar Energy Technology Gaoyou Co., Ltd., has been officially registered and established. The project has a planned investment total of 11 billion yuan and will cover an area of 132 acres. Three standardized workshops will be constructed to realize the 20GW annual output target. Phase I of the project is expected to be completed and put into operation before the end of 2021.
The investment total for phase I of the intelligent manufacturing project is estimated to be 2.96349 billion yuan, of which 2.44786 billion yuan will go towards the construction of an annual 6.5GW high-efficiency solar cell production facility and 515.63 million yuan will be spent on the construction of an annual 1.5GW high-efficiency solar module production facility. Upon completion, the main products produced by the project will include 18Xmm and 21Xmm high-efficiency solar cells and modules.
With the Chinese government announcing its intent to achieve carbon neutrality by 2060, the photovoltaic industry, as one of the important forces of clean energy, will need to continue to achieve sustained development in the next ten years. The blueprint has been drawn, and it is time to forge ahead. CECEP Solar expressed that it will seize the opportunity in industry technology upgrading and gradually expand its production scale. According to the market and policy environment, with the help of relevant resources, and on the basis of the successful implementation of this smart manufacturing project, CECEP will strive to reach annual outputs of 50GW in the future.