New Energy Think Tank – Recently, Century New Energy Network's analysis team release the export data of Chinese made solar cell and modules (including PV cells, modules, and off grid modules) for the month of April.
Despite of the severity of the COVID-19 epidemic, Chinese photovoltaic enterprises still managed to achieve solid module export numbers for the month. According to relevant data, China's solar cell and module exports for the month of April was 1.569 billion USD, a 17% decrease from 1.891 billion USD in march. However, this is a 0.44% increase when compared to the same period last year. Affected by the epidemic, total exports from January to April in 2020 was 5.55 billion USD, a 9.46% decrease from last year's 6.13 billion USD.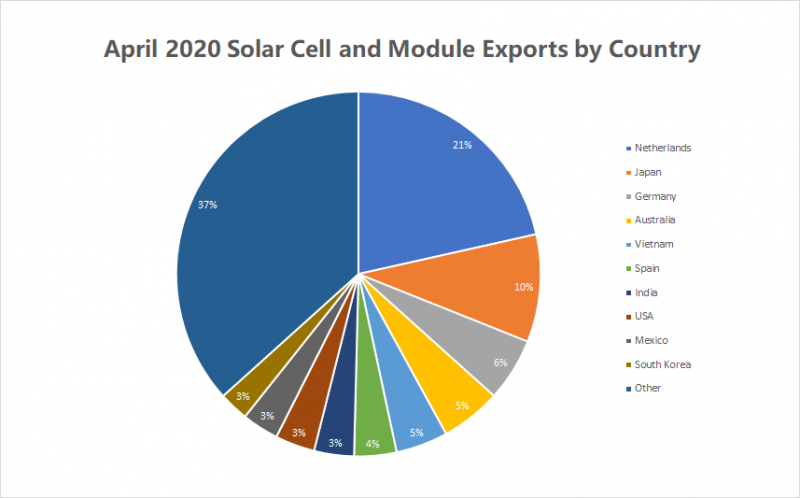 The Netherlands is still the number one destination for Chinese module exports, taking in 337 million USD in export for the month. Next is Japan at 149 million, Germany at 88 million, Australia at 84 million, Vietnam at 72 million, Spain at 58 million, India at 55 million, Mexico at 41 million, and South Korea with 41 million. The top 10 countries and regions accounted for 63% of April's imports.
Furthermore, Jinko Solar ranks first among all exporters with 179 million USD, followed by JA Solar's 154 million, Trina Solar's 124 million, LONGi Solar's 123 million, and Risen Energy's 110 million. The top five exporting enterprises combined for 691 million USD, the top 10 combined 62% of all exports at 955 million USD, and the top 20 enterprises accounted for 77% of all solar cell and module exports for the month of April.