PVTIME – Contemporary Amperex Technology Co., Limited (CATL) and Yutong Group (Yutong) signed a ten-year strategic cooperation framework agreement in Zhengzhou, Central China's Henan Province on August 9, 2022. Dr. Robin Zeng, founder and chairman of CATL, and Tang Yuxiang, chairman of Yutong, attended the signing ceremony.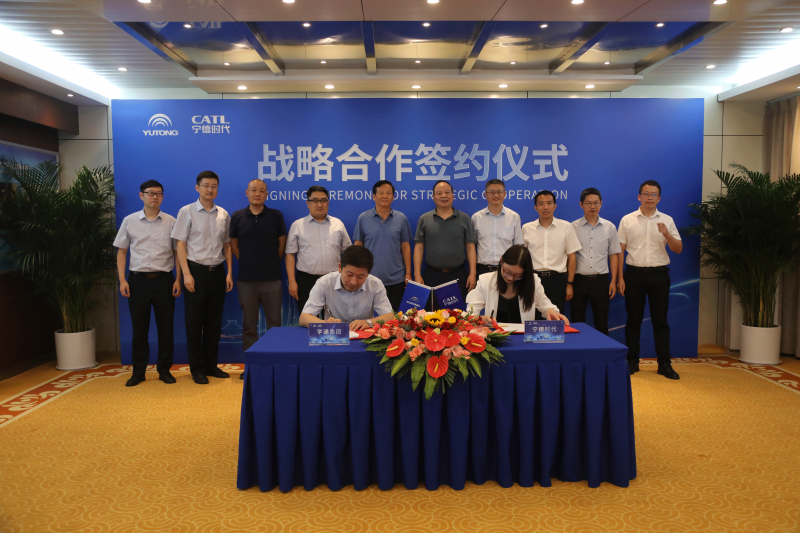 According to the agreement, CATL and Yutong will leverage their respective advantageous resources in buses, heavy-duty trucks, light-duty trucks, engineering machineries, sanitation vehicles and other commercial vehicle related fields. In addition, the two parties will work together to bolster the innovative development and application of new materials and new technologies, and jointly develop technical standards for commercial vehicle batteries so as to maintain their leading position in the field of commercial vehicles. Also, the two parties will team up on exploring overseas markets to promote both vehicles and batteries abroad.
Prior to the agreement, CATL and Yutong have engaged in a decade-long in-depth strategic cooperation since 2012. With joint efforts in electrical system upgrades, CTP (cell-to-pack) technology applications, and protection of battery system, the two companies have been contributing to the electrification and technological upgrades for the commercial vehicle industry.
So far, CATL has provided Yutong with 19GWh EV batteries for nearly 150,000 new energy buses, accounting for 93% of Yutong's electric buses, helping them to be exported to more than 40 countries and regions such as Qatar, France, UK and Spain. The two parties have safeguarded an estimated 30 billion kilometers of safe travel and have reduced more than 23 billion tons of CO2 emissions. As Yutong's largest EV battery supplier, CATL also provides clean power for Yutong's commercial vehicles such as sanitation vehicles, mixers, tractors and dump trucks to safeguard the environment.
In the following decade, CATL and Yutong will further deepen strategic cooperation and continue to actively explore efficient and pragmatic cooperation models to achieve win-win results. The two parties will continue to drive technological innovation, promote technology upgrade and green low-carbon transition of the industry, so as to achieve the goal of carbon neutrality in the transportation sector at an early date.