PVTIME – In its Q1 2021 Global PV Market Outlook, BloombergNEF predicts that global newly installed photovoltaic capacity for 2021 could reach 209GW.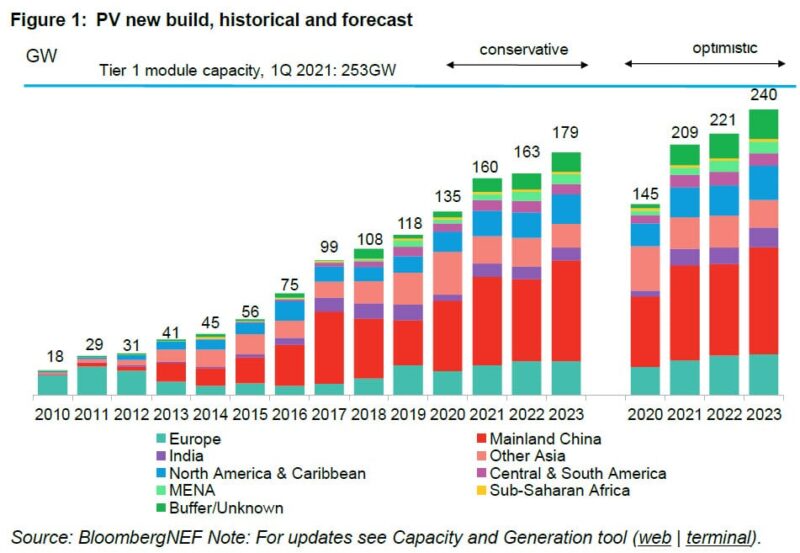 BloombergNEF provided both conservative and optimistic scenarios for up to 2023. In the first scenario, the newly installed capacity is expected to reach at least 160 GW this year, then 163 and 179GW in 2022 and 2023, respectively. In the second scenario, this year's newly installed capacity could reach 209GW, then 221 and 240GW in the next two years respectively. For comparison, the newly deployed solar capacity of 2020 and 2019 was 135GW and 118GW respectively. Discussing the main factors for growth, BloombergNEF explained that "Most country solar markets will grow in 2021, particularly India, which has a large number of projects delayed from 2020, and China, which is expected to maintain growth to keep course for its 2060 net-zero target."
Furthermore, BloombergNEF analysts believe that glass and polysilicon production bottlenecks will not impact the market as new production capacity for both will gradually be coming online to alleviate the pressures in meeting demand. "Along with expected new glass capacity, there should be adequate supply as new factories for glass and polysilicon come online, although polysilicon will be the bottleneck and prices will probably stabilize around $12/kg this year," the analyst commented.
Following the recovery of the glass supply required for solar modules, analysts predict that the average module price in 2021 will decrease by US$0.02/W to US$0.18/W. Particularly, the price of standard 166mm wafer modules is expected to be an estimated US$0.19/W this year while larger-format (210mm wafer) modules are expected to command a premium in markets without punitive trade tariffs.