PVTIME – Zhejiang Beyondsun Green Energy Technology Co., Ltd. ("Beyondsun" or the "Company"), recently announced that its DuDrive Max high-efficiency module series have completed the full set of reliability tests conducted by the third party testing and certification organization VDE Germany and CGC (China General Certification Center), a well-known third-party testing and certification organization in China, and successfully obtained both IEC 61215 and IEC 61730 certifications. This marks a major breakthrough made by Beyondsun in the field of 182 ultra-high power module reliability, which is also another important milestone in the company's development.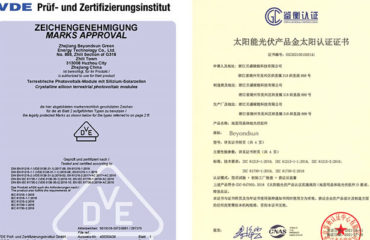 The DuDrive Max series is a new generation of high-efficiency photovoltaic modules specifically designed for distributed projects and large-scale ground-mounted projects. The product combines 182mm gallium-doped silicon wafer, multi-busbar technology, non-destructive laser cutting and other technologies together. The power output of DuDrive Max with 72 cells exceeds 550W+ in mass production, the module efficiency exceeds 21.3%, which can significantly reduce the BoS. It can reduce the LCOE by about 8%. For the distributed market, the DuDrive Max with 54 cells has several advantages, including small size, light weight, high output power, flexible array design, good system adaptability, and high reliability. Different appearance designs such as all black are available, which can meet the diverse needs of both residential and C&I customers.
Beyondsun high quality solar modules are based on reliable materials, advanced manufacturing processes and the most stringent quality inspections, which maximizing ensure the reliability and product performance of each module. The DuDrive Max series of high-efficiency solar modules were successfully certified by VDE Germany and CGC China, which further proved the company's unremitting pursuit of product quality, and also gained the trust and recognition of customers. Beyondsun will uphold the ingenuity manufacturing that it has always adhered to, and will continue to work hard to build a "zero-carbon" future for all human kinds.