SHANGHAI, Nov. 21, 2019 /PVTIME/ — Arctech Solar, a leading solar tracking and racking system provider, announced that it has successfully delivered over 500MW of solar trackers to utility-scale power plants in Mexico. It marks an important milestone of Arctech Solar in promoting the development of renewable energy in Mexico.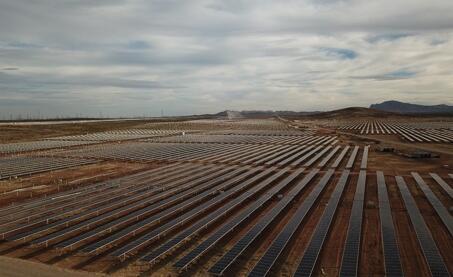 SkySmart Application in Bifacial-module Solar Power Plant
Since entering the Mexican market in 2018, Arctech has been making big moves with 1P tracker SkyLine and 2P tracker SkySmart supplied 7 projects in Mexico and continues to expand its presence locally by setting up an office where can support every stage of a project including design engineering, sales and project management.
One of excellent examples of cooperation with our partners to deliver a high-quality solar plant is Sonora 167.12MW project, located in Benjamin Hill, Mexico, which is expected to be grid connected this December. This project was equipped with bifacial modules, ideal matches for SkySmart which is a 2P tracker and enables bifacial module's back to yield more energy. Besides, this project can be installed at a rapid rate thanks to SkySmarts's advantage of efficient factory pre-assembly.
SkyLine Application in Durangeo's First Solar Power Station
Another excellent example is Canatlan 104MW pv solar project, which is the first solar plant in Durangeo and the second SkyLine tracker project after the commissioning of Ahumada 144MW project in Mexico.
The complicated landforms and strong wind of this project set a higher standard for solar trackers. Arctech's SkyLine is a 1P solution which was the ideal choice to this project, which has strong terrain arability, easy installation and strong wind-resistance capability.
As the owner and EPC of this project, Risen Hong Kong general manager Yuan Jianping said, "Mexico market is one of the most important markets in the global layout of Risen, we are very satisfied with this project cooperated with Arctech which has strong presence in the Mexico market. It proved to be a solid and reliable partner for their leading products, technologies and customer services. With our common commitment to reliability, we are certain that Risen and Arctech will bring high quality pv power station in Mexico and worldwide."
"We are really proud of being entrusted with our design and product by the local customers." said Mr. Guy Rong, the president of Arctech Solar's global business. "The Mexico and Latin American market are growing rapidly. We look forward to working closely with local or global strategic partners to maximize the production, revenues, and profitability from these solar properties."
SOURCE: Arctech Solar