SOFARSOLAR – India's energy storage market, the largest in South Asia,  is displaying a very active trend driven by the construction boom of large-scale renewable energy power generation projects and power grid infrastructure upgrading. In recent years,  large-scale energy storage projects on the grid side and user side are not the only projects that have been started in India, there also have been a tremendous amount of PV power station projects bidding and purchasing energy storage systems. As a global leader in energy storage inverters and batteries, SOFARSOLAR follows the market development trend and rapidly began to develop India's energy storage market.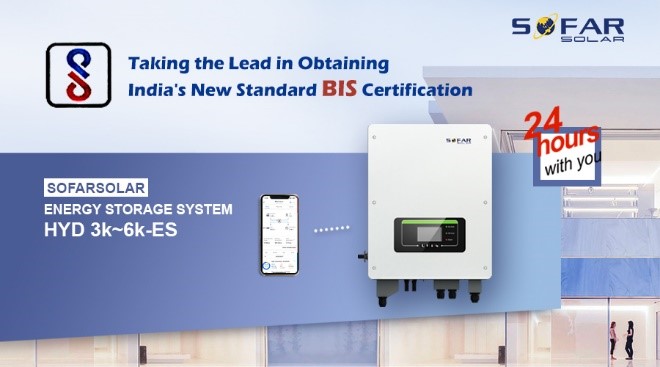 Recently, SOFARSOLAR India Team announced that its energy storage inverters were the first to obtain BIS (R-41156892) Certification, boosting the company's capabilities in the Indian energy storage market further. This not only establishes the leading position of SOFARSOLAR in the Indian energy storage inverter market but also sets up a new quality benchmark for the market.
Mr. Brijesh Prajapati, head of SOFARSOLAR India, said that obtaining the BIS Certification (R-41156892)in India gives the company a lead in getting the admission ticket for a new standard of implementation in India, which will lay a solid foundation for the further expansion of the energy storage market for SOFARSOLAR. It will also provide strong market support and quality assurance for local partners, further deepening the cooperation.
Since 2015, SOFARSOLAR has been developing and focusing on the Indian market and set up branches, storage centers, sales centers, and service centers aimed at providing customers with more perfect services. In 2019, over 100 MW inverters have been provided for the Gujarat region alone; in 2020, major breakthroughs have been made in several market segments of India, with the total installed volume reaching a new high, securing the leading position in many regions. With the completion of the energy storage market layout, a new growth point will be added for the India market share of SOFARSOLAR.
Mr. Brijesh Prajapati said, "The energy storage inverters were the first to gain BIS Certification thanks to the recognition of our technology and products given by the certification authority. In the future, we will adhere to our original intention to market more efficient, more stable, and more reliable PV and energy storage inverters, so that thousands of households in India can enjoy the green and healthy life brought by clean energy."