PVTIME – On March 18, Sungrow unveiled its SG320HX string inverter during the annual PV Advanced Technology Frontier Summit (PAT). With a power output of 325kW, the SG320HX is claimed by Sungrow to be the world's most powerful string inverter ever released.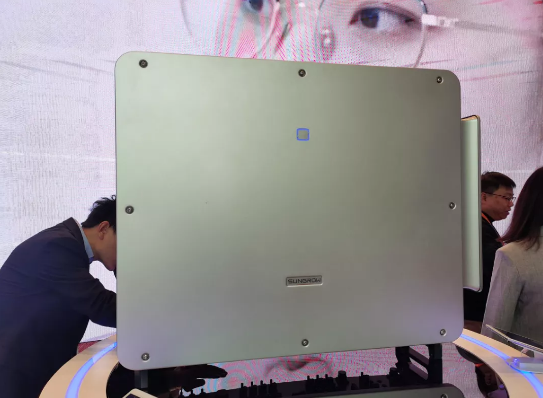 The SG320HX weighs 110kg and has a power output of 325KW (Source: PVTIME)
According to Sungrow Vice President Li Shun, the 1500VDC SG320HX is highly compatible with 182mm and 210mm large-sized high-efficiency modules with its DC/AC ratio of up to 1.8. Li Shun also pointed out that the SG320HX can operate stably in weak network conditions, can rapidly derate by 99.2% within 60ms, and has a fast reactive power response time of 30ms. "The new SG320HX is redefining the super-high power string inverter, which will help Sungrow's customers to once again lower the levelized cost of energy," Li Shun said.
In a 100MW power station, it is estimated that the SG320HX can save more than 10.2 million yuan in system cost and reduce LCOE by 20%.
Comparing the SG320HX to its predecessor the SG225HX, Zhao Wei, Senior Vice President of Sungrow, said, "Compared to the previous generation, SG320HX's power density is 28% higher. While this is a significant improvement, we will not stop improving!" Zhao Wei also introduced that with the continuous innovation of accessories and materials, more advantageous inverter products will be launched in the future.
"The energy revolution era has begun, and clean energy systems represented by wind, solar, and energy storage will gradually replace traditional energy and become the main power source. Sungrow will continue to focus on innovation and provide the world with first-class new energy solutions and services," Zhao remarked.