PVTIME – Germany's Institute for Solar Energy Research (ISFH) has recently tested LONGi's monocrystalline bifacial N-type TOPCon cell and announced that its conversion efficiency has reached 25.09%, setting a new world record.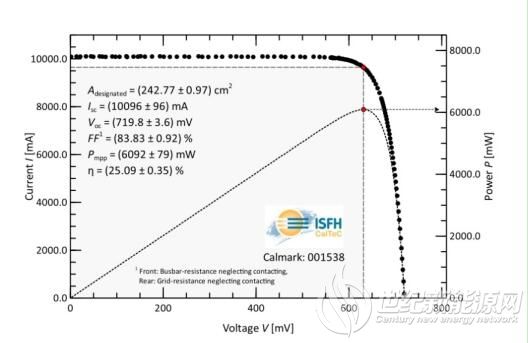 Based on the industrialization of new efficient solar cell technologies, LONGi's cell R&D center adheres to independent innovation and promotes the technology advancement of the photovoltaic industry. LONGi Solar's world record for bifacial (double-sided) PERC solar cells conversion efficiency of 24.06 percent achieved in January 2019 still stands.
"Promoting the continuous upgrading of the entire industry towards a more efficient and sustainable direction is our goal," said Li Hua, vice president of LONGi Solar and head of the cell R&D center.
"The improvement of cell conversion efficiency is the main driver for the development of photovoltaic technology. LONGi will continue to focus on the development of leading technology products and mass production capabilities and lead the technological change of the industry so as to help China achieve its carbon goal," Li Hua added.
From 2012 to 2020, LONGi has invested a total of 7.963 billion yuan into R&D and obtained 1,001 patents.