9 Chinese PV module manufacturers secure places in top 10
CHANGCHUN, China, January.
21, 2020 /PVTIME/ -- PV consultation company PV InfoLink recently announced its
annual 2019 global PV module shipment ranking data. Out of the 10 places,
Chinese module manufacturers occupied 9.
The clear winner of 2019 is once again Jinko Solar with shipments totaling about 14 GW, a quantity far higher than all other module manufacturers on the list. Second place JA Solar and third place Trina Solar each achieved over 10GW in outgoing shipments in 2019. Ranking 4th to 10th are LONGI, Canadian Solar, Hanwha Q CELLS, Risen Energy, Suntech Power, Chint Solar, and Talesun, respectively.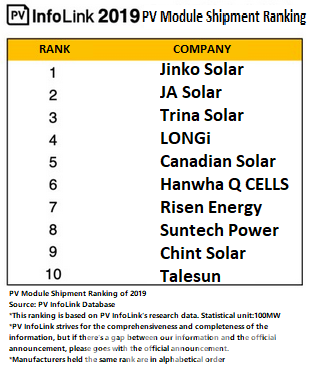 According to PV InfoLink, the top 10 manufacturers combined for about 80GW of shipments in 2019, accounting for 65.4% of the global demand of 121GW, a slight increased compared to 2018. With several leading manufactures setting more ambitious shipping targets for 2020, PV InfoLink expects the top 10 manufacturers to break the 70% mark in 2020.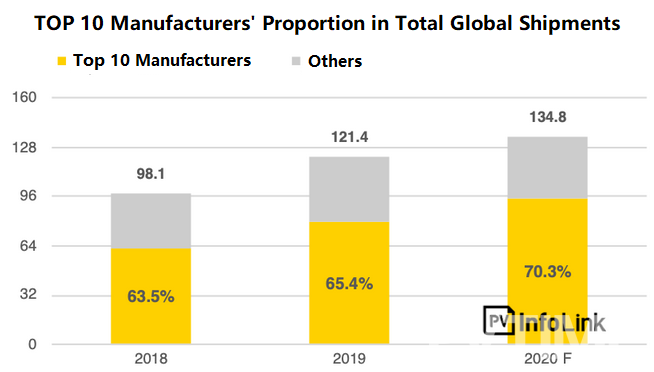 Industry experts believe that increase in global photovoltaic demand will continue to drive the growth for domestic PV manufacturers. In the past 10 years, due to continued investments into technological innovation, production costs have continued to decline while automation and digitization continued to surge. Statistics from the China Photovoltaic Industry Association show that in 2018, China's module output had reached 85.7GW, a year-on-year increase of 14.3%. There were 11 companies with module outputs exceeding 2GW, and accounted for 62.3% of the nation's total when combined. In 2020, China's module production is expected to exceed 90GW.